Division III Profile: Five Students Develop Tech Venture for Assessing Livestock Health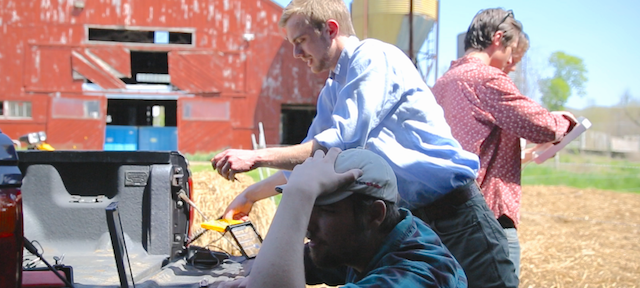 Josh Minot's Division III thesis project seeks to level the playing field for small and medium farms by offering affordable technology to monitor the health of livestock. Minot and a team of four other Hampshire students, merging their individual academic paths under the name AgriGatr, have been working together to develop the technology with the hope of launching a full-scale venture.
The team is developing a system that detects disease and predicts breeding cycles through individual animal's consumption of water. The system monitors the consumption by way of electronic quantity sensors, and reports the information to farmers. Minot envisions a device that complements the schedules of busy small-scale farmers by interrupting their day only when something may be wrong with an animal.
"Our project asks 'How do we make this technology that has been so influential for large-scale farmers and bring it down to a scale where it can benefit the family dairy farm down the road?'" he says.
In addition to Minot, the members of the AgriGatr group include three students who graduated with him in May, and one student now entering his final year at Hampshire:
Recent graduate Lewis Blake handled the mathematical and predictive modeling for the project, which was also the focus of his Division III studies.
Nicholas Lee's interest lies in software development and database management. Also a recent graduate, he presented his Division III on emerging technologies, Web design, and cloud technology.
Luke Richardson, also a May 2016 graduate, handled the project's business development. For his Division III, he studied political economies, entrepreneurship, and market research and wrote a strategic business plan for AgriGatr.
Current Division III student Max Cheney assessed the hardware for the product with a focus on cost efficiency. In completing his Division II studies last year, he concentrated on mechanical agricultural design and entrepreneurship, while also working on AgriGatr.
Minot describes working together as challenging but rewarding. "There's something to be said for the camaraderie in a group," he says, "and the advantage it gives you when each member has a specialty and you're able collectively to lift each other up."
The College's interdisciplinary education model provided the team the freedom to explore ideas without boundaries. "At Hampshire, if I think a professor or group of students may be helpful, the only barrier is my taking the initiative to reach out to them," Minot says. "It's not like 'You're an engineering student, you should live in the engineering building and that's your job.'"
The Hampshire College Farm, which grows vegetables and raises livestock, was a valuable project-development resource for the project, providing a space where the team could collect the data on animal feeding. Director of Food, Farm, and Sustainability Beth Hooker notes a component of the Farm's mission is to support research opportunities for faculty and students and to be a living lab for Hampshire's experiential education.
The AgriGatr team has received several grants and earned many accolades. It received $5,000 in funding as a Stage 1 VentureWell student grant. VentureWell is a nonprofit organization that supports up-and-coming science and technology inventors and fosters innovation and entrepreneurship. Along with the monetary aspect, the team will receive six monthly coaching sessions to help them develop their business model. The team can also now apply to Stage 2 and contend for an additional $20,000 in grant money.
Other financial backing for the project was provided by Hampshire's Seed Fund for Innovation, a $1 million, student-run angel-investment program underwritten by the generosity of alum Michael Vlock. Minot and Blake also received fellowships from the Four College Biomath Consortium.
The AgriGatr team was recently awarded an honorable mention at the Maine Innovation Pitch, a Bowdoin College program that seeks "bold and big ideas pushed by people who want to challenge each other and the status quo."
On Minot's Division III faculty committee were Professor of Botany Lawrence Winship and Professor of Linguistics Mark Feinstein. Animal Behavior Professors Sarah Partan and Kathryn Lord and Dean of Natural Science Steve Roof also offered support.
The AgriGatr team is now in the late stages of developing its prototype, and continues to communicate with local farmers with the goal of making the project more viable. Although all the members of the group have individual plans for this year, they agree that continuing to develop the project is a priority.
"We all thought this project would be a great opportunity to get something off the ground, to take that risk," Minot says. "Working in a team-based environment, we've learned an incredible amount, both in our respective areas of focus and about agricultural technology and animal behavior. We've really clicked."
1