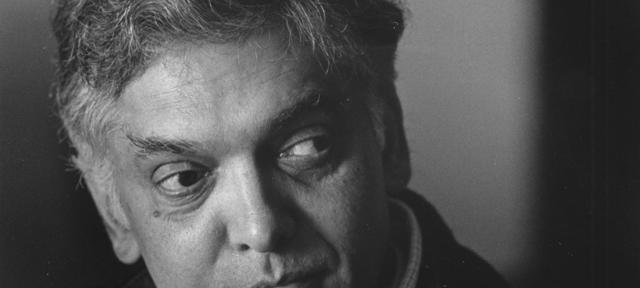 On his first visit to Hampshire, Eqbal Ahmad was billed as intellectual royalty, the kind of thinker-activist on the world's stage whose talks you didn't want to miss. On that autumn afternoon, none of us did.
FPH's Main Lecture Hall was over-flowing, not just with an eager audience but also with words — stories, critiques, questions from our guest on everything from the Algerian revolution, to Arab nationalism, to Reagan's Middle East  policy — all of it woven into beautiful paragraphs over 70 minutes without the benefit of notes. A friend of mine, years later, recalled how Eqbal started every lecture with two fibs: "I'm sorry I'm late" and "I'll be brief."
Well, he was worth the wait and kept us enrapt. Many of us had never heard from a Muslim scholar whose life experiences touched corners of the world we were only just learning about. And for days after, we quoted his commentaries and expressions. "The situation is absolutely banana," he'd say. We would, too, never in the plural.
In 1982, I was the student rep on the hiring committee that interviewed Eqbal for a faculty position. (For the next 15 years he would be professor of politics and Middle Eastern studies at Hampshire.) This is an intimate place, I informed him, and asked if he'd be available to meet with students outside class, knowing the demands on his time that came from . . . everywhere. He said he would, but probably not "sitting in cafés into the wee hours." That seemed reasonable. Of course, we did spend late evenings with him, not only in cafés but also in the Dakin living room, Eqbal sitting cross-legged and in his socks. He was both the analyst and the sparkling raconteur, talking for hours, moving from the Tunisian labor movement, to Palestinian aspirations, to the athletic feats of Pakistani badminton dynasties. It was from his most personal stories that I began to grasp the horrors of the 1947 Partition of India, the wrenching apart of families, the escalation of sectarian violence, the indifference of the region's colonial masters.
When I was his teaching assistant for a seminar on world politics, he asked me to read an essay he'd just completed. (He often had me preview articles he was considering assigning in his classes.) I did. And I told him I didn't think this piece was a good fit. "Thank you, Charles," replied this passionate man, whom Edward Said called "perhaps the shrewdest, most original anti-imperialist analyst of Asia and Africa" on the planet. "I was curious if you thought it was as bad as I did."
CHUCK COLLINS is a researcher, activist, and storyteller based at the Institute for Policy Studies, the same Washington, D.C., think tank where Eqbal Ahmad spent a decade as senior fellow earlier in his career. He is also the coeditor of Inequality.org. His latest book, Born on Third Base: A One Percenter Makes the Case for Tackling Inequality, Bringing Wealth Home, and Committing to the Common Good, was published by Chelsea Green in 2016.
EQBAL AHMAD taught at Hampshire from 1982 to 1997. His faculty colleagues, former students, family, and friends from around the globe together created the Eqbal Ahmad Lecture, held annually in October, which honors his teaching, scholarship, and activism and continues to celebrate his life and work.
From the Summer 2017 issue of Hampshire's Non Satis Scire magazine.
1