Photographic Storytelling and Adapting to Change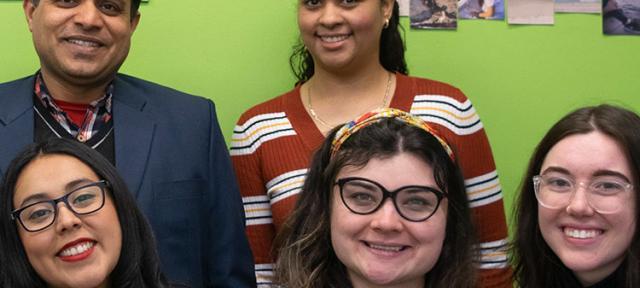 Early in the 2020 spring semester, Emma Symanski 17F was excitedly studying the intersection of photography and language. An avid Spanish student, she was teaching a class for English-language learners, having her students use their own photos as a tool for discussion, and developing a multimedia Div III project that would involve presenting their stories in a gallery show. Then the COVID-19 pandemic hit, and no one could safely gather for an exhibition.
So, she did what Hampshire students do: She came up with a creative solution, one that had the benefit of giving her project more longevity. She turned it all into a book, called Teaching English Through a Photographic Lens.

Symanski designed her Div III based on two experiences during her time at Hampshire. First, at Applewood, the retirement community just across from the College, she had helped residents tell their stories through photography, which she found very moving. Second, she enrolled at the International Language Institute of Massachusetts (ILI), and earned the World Learning's SIT TESOL Certificate. Being in ILI classrooms altered her perspective on teaching.

The core of Symanski's original plan for her final project was to design 10 courses modeled after the framework of TESOL, integrating the use of content that her students would bring to class, and to offer the classes to members of the community. And it started off well enough.

Symanski used ILI's facilities and supplies, and asked the Jones Library, in Amherst, and Pioneer Valley Workers Center, a local organization that supports immigrant workers, to promote her courses. Over the second semester of her Div III, she taught eight sessions, took portraits of her English-language learners, and interviewed them. Her students were both immigrants and visitors to the United States. Many were Spanish-speaking natives, but there were also attendees from Japan, Pakistan, and Turkey. They took pictures with their phones, then used the photos as topics for discussion.

The exhibition Symanski envisioned at the conclusion of her project would be a display of narratives and photography by her students as well as her own documentary of the participants and classes. When the coronavirus made that impossible, she taught herself InDesign so she could take all of that content and lay it out in book format, keeping up with her students remotely in order to finish. "I had to reimagine it," she said. "But the book version made an ephemeral thing tangible, and permanent."

The need to learn new software and adapt her work didn't hold her up a bit. Symanski was an accelerated Div III student; she graduated from Hampshire in three years.

You can buy Teaching English Through a Photographic Lens here.
1