Exhibition Questions History of U.S. Relationship with Puerto Rico through Ironic "Museum" of Empire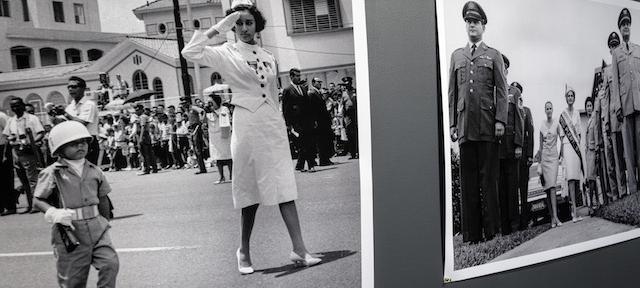 Hurricane Maria devastated Puerto Rico, and as its one-year anniversary approaches, an exhibition at the Hampshire College Art Gallery probes a long history of the colonial relationship between the United States and the island, a U.S. territory for more than a century and a commonwealth since 1952.
The Museum of the Old Colony, by the Hartford-based, Puerto Rican–born artist Pablo Delano, runs through November 15 and is accompanied by extensive programming throughout the fall, beginning with a public opening reception from 5 to 7 p.m. on Thursday, September 20 — one year to the day from Hurricane Maria's landfall on Puerto Rico — in the Gallery, on the ground floor of the Harold F. Johnson Library.
The following week, on Thursday, September 27, the College will host an artist's talk and Q&A with Delano, from 5:30 to 7 p.m. in Franklin Patterson Hall.
The Museum of the Old Colony is a conceptual installation of historical photographs and moving images of Puerto Rico — along with their original captions or descriptive language — created mostly by U.S. photographers for the consumption of the continental U.S. public. Spanning a century of images appropriated by Delano from diverse sources, this wry, sometimes shocking, and often deeply painful "museum" draws attention to the role of textbooks, travel companies, publishers, newspapers, and government institutions in constructing and circulating stereotypical views of Puerto Rico and Puerto Ricans.
The installation derives its name in part from a U.S. brand of soft drink named Old Colony, popular in Puerto Rico since the 1940s. The drink's name provides an ironic nod to the status of the island, officially defined as an "unincorporated territory of the United States" but widely regarded as the world's oldest extant colony. The images comprising the installation, purposefully displayed as large push-pinned reproductions, bear witness to this relationship, from their representations of impoverished "native types" in need of physical and moral uplift, to the extensive military use of "Uncle Sam's strategic isle" under the guise of its defensive "fortification." The installation's materials are curated to evoke the historical and anthropological museums of Empire, and suggest the role of museums and archives in perpetuating and legitimizing colonial ideology.
The exhibition is also a personal meditation on where Delano was born and raised, and a way of coming to terms with the role of photography — Delano's usual creative medium and that of his documentary-photographer father, Jack Delano — in shaping popular U.S. perceptions of the island. The artist hopes that a careful examination of the colonizer's gaze, as revealed in the installation, will shed light on some aspects of the island's current state.
Previously, selections from The Museum of the Old Colony have been installed in galleries and museums from Port-of-Spain to Kingston, and from New York City to San Juan. The Museo de Arte Contemporáneo de Puerto Rico, which recently acquired a version of the installation, is considered its institutional home and is cosponsor of the Hampshire College showing.
Associate Professor Wilson Valentín-Escobar first brought the project to the attention of Hampshire College Art Gallery Director Amy Halliday, who co-curated the exhibition with Delano. Both Valentín-Escobar and Halliday recognized the potential for the exhibition to act as a catalyst for resonant conversations around race, representation, language, politics, and power.
Among related programs this fall will be class visits from across the Five Colleges, poetry workshops with local poet, playwright, and educator Magdalena Gómez (who has written a series of poems responding to the exhibition), and a multiday residency with multidisciplinary artists and organizers from the Puerto Rican collective AgitArte. A print catalogue accompanies the exhibition, with essays by Amy Halliday and University of Puerto Rico curator and artist Nelson Rivera. A digital version will soon be available online.
LINKS
BIOS
Pablo Delano was born and raised in San Juan, Puerto Rico. He earned a BFA in painting from Temple University and an MFA in painting from Yale. Solo exhibitions of his work have been held at museums and galleries across the Americas and the Caribbean and in Europe. He is the author of three books of photography: Faces of America (Smithsonian, 1992), In Trinidad (Ian Randle Publishers, 2008), and Hartford Seen (forthcoming from Wesleyan University Press, 2019). Delano teaches studio art and photography at Trinity College, in Hartford, where he also serves as codirector of the Center for Caribbean Studies.
Wilson Valentín-Escobar, a native of Brooklyn, is an associate professor of American studies, critical ethnic studies, and sociology at Hampshire College and chair of the Five College Latin American, Caribbean, and Latin@ Studies Program. He is currently completing Bodega Surrealism: The Emergence of Latin@ Artivists in New York City (New York University Press). The book, which derives from his award-winning dissertation, examines the cultural activism, or "artivism," of two art communities and projects that originated within the Lower East Side in New York City: the New Rican Village Cultural Arts Center and El Puerto Rican Embassy. In 2012, Valentín-Escobar received the Best Dissertation Prize from the Latina/o Studies section of the Latin American Studies Association (LASA). He holds a PhD in American studies from the University of Michigan. Faculty Profile
Amy Halliday is director and curator of the Hampshire College Art Gallery. Her research and practice focus on teaching and learning in the college art museum, art and social change, and global contemporary art. She is working on articles about art/science collaborations across the gallery/lab, and how academic museums and libraries can collaborate to have an impact on teaching and learning, creativity, and community engagement on campus. Her most recent publication is "What are women's prisons for?: Gendered states of incarceration and history as an agent for social change" (with Chelsea Miller and Julie Peterson), in Museums & Social Issues 12(1), 2017. Her work with the University of Massachusetts Amherst public history class on women's incarceration was part of the national traveling exhibition States of Incarceration: A National Dialogue of Local Histories, and won a 2016 Academic and Community Transformation Award at UMass for connecting academic learning and community engagement. She holds an MAT from Smith College and an MA in the history of art from University College London.
GALLERY
1