Experimental Pinhole Photo Exhibit by Hampshire Alum to Debut at Campus Gallery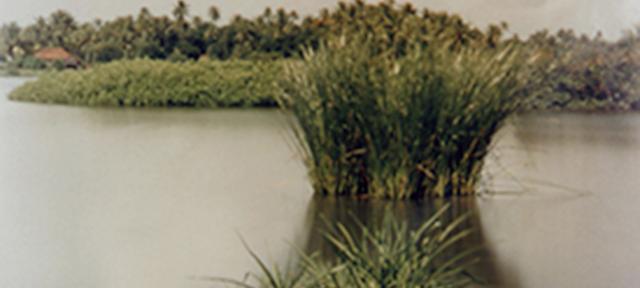 An exhibition of pinhole photographs captured by Hampshire College alum Kate P. Freedberg using a lens-less pinhole camera will debut in the Leo Model Gallery at the Liebling Center on campus from November 18 to December 14.
All of Freedberg's works in the posthumous exhibit were captured with a pinhole camera – a lens-less camera that employs exposure times ranging from a few seconds to several minutes. Pinhole photos are characterized by diffuse light, often lending a dreamlike quality to the images. The exhibit's photographs were taken during Freedberg's travels in Italy and India.
The exhibit is one of two running simultaneously at the Leo Model Gallery, the other is a show of large-scale black and white photographs by Anna Collette entitled "Gathering Ground."
Kate Pulitzer Freedberg '81F (1958-2010) graduated from Hampshire in 1985 with a BA in photography and received her MFA in photography from the School of the Museum of Fine Arts Boston/Tufts University in 2000. The images in this exhibit represent a small portion of Freedberg's archives, recently acquired by the Hampshire College Archives and Special Collections.  The collection is currently stored off-site, and will be available for research at the Archives in 2019.
Freedberg's photography is both experimental and prolific. She was an expert color printer and experimented with photographic equipment, including pinhole and panoramic cameras. A Washington Post review of a 1985 solo exhibit of her work described Freedberg as "a young photographer with a special gift not only for composing in color, but for composing in depth, and seeing through layers of quiet visual events…that gives her work a complexity that keeps you looking." Much of her work explores color, light, and movement in landscapes.
Freedberg's work is also held at institutions including the Fogg Art Museum, Harvard; The International Center of Photography (New York, NY); The Brooklyn Museum (Brooklyn, NY); The Fondo Del Sol Museum (Washington, DC); The Center for Photography at Woodstock (Woodstock, NY); the Davis Museum and Cultural Center, Wellesley College; and the DeCordova Museum (Lincoln, MA).
The daughter of Sydney J. Freedberg (historian of Italian Renaissance art and a curator at the Fogg Museum at Harvard and later at the National Gallery in Washington), Kate spent her early years in Florence, and would return to Italy many times over the course of her life. She was also the granddaughter of Margaret Leech, novelist, historian, and member of the Algonquin Round Table.
The gallery's second exhibit features the photographs of Anna Collette, Assistant Professor in Photography in the Department of Art and Art History at The University of Texas at Austin. Collette received a BFA from the Massachusetts College of Art and an MFA from Yale University. 
For more information on these two exhibits, contact Sandra Matthews, smatthews@hampshire.edu
Pinhole Landscapes by Kate P. Freedberg
Gathering Ground by Anna Collette
Leo Model Gallery
Jerome Liebling Center for Film, Photography and Video
Hampshire College
November 18- December 14, 2015
Gallery Hours:
Monday-Friday 9-6
Sat/Sun 1-6
Gallery is wheelchair accessible
1