Five College Dance Faculty Concert Explores Distance and Intimacy Amidst Upheaval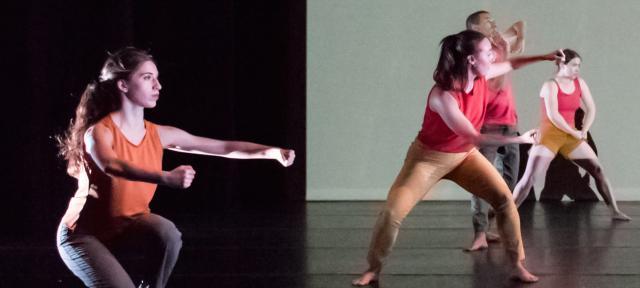 Five faculty and guest artists from each campus to perform works that investigate human distance and intimacy
Main Studio Theater, Hampshire College
February 20-22, 2020, 8pm; February 22, 2020, 3pm
Tickets: $5 for students/seniors, $10 for general admission / Available online: www.fivecolleges.edu/dance  
This year's Five College Dance Faculty Concert features five faculty and guest artist works from each campus that investigate human distance and intimacy. Set against the backdrop of global social and environmental crises, these performances provide ways to contemplate how we connect—or not—with our own internal landscapes, with other individuals, and with our physical surroundings. The concert invites performers and audiences to consider how embodiment, movement collaboration, and the community inherent to performance can provide not solutions to the difficulties we face, but rather new avenues by which to broach them. 
All five pieces are premieres that either continue or initiate the artists' choreographic investigations with Five College Dance students. Featuring new work by newer members of the Five College Dance community, this concert can be seen as a look into the future of Five College Dance.
The choreographers are:
Deborah Goffe, assistant professor of dance, Hampshire College
Barbie Diewald, assistant professor of dance, Mount Holyoke College
Sarah Lass, Smith MFA '18, Smith guest artist
Jenna Riegel, assistant professor of dance, Amherst College
Aston K McCullough, assistant professor of dance science, UMass Amherst
Based in Amherst, Massachusetts, Five Colleges, Inc., is a nonprofit educational consortium created in 1965 to advance the extensive educational and cultural objectives of its member institutions—Amherst, Hampshire, Mount Holyoke and Smith colleges and the University of Massachusetts Amherst.
1