Four Hampshire Alums Awarded Fulbrights in 2017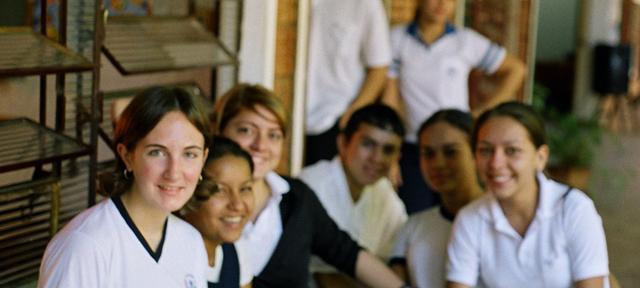 This year four young alums have won Fulbright Awards, bringing to 15 the number from Hampshire who've earned this competitive grant the past six years to fund overseas research, teaching, and international exchange. The four awardees announced in 2017: Leanna Pohevitz, who will live in Brazil as a Fulbright English Teaching Assistant; Justin Baldwin, who will serve the year in Colombia to conduct field research and to teach; Nicole DelRosso, who was invited to study in Germany but declined her Fulbright so she could lead original research in biophysics at the University of California, San Francisco; and Rebecca Thomas, also a Fulbright English Teaching assistant, who will serve in Ecuador. Details of their awards are below.
Hampshire students, challenged by the College to design their own programs of study and present to faculty committees, have a record of earning national awards equal to students of other top colleges and universities. Awards received by Hampshire students and grads since 2011 are:
Fulbrights: 15
Gilman Scholarships: 14
National Merit Scholarships: 6
Freeman Asia Scholarships: 5
Gates Millennium Scholarships: 2
Philip Evans Scholarships: 2
Daniels Fund Scholarships: 2
Jack Kent Cooke Scholarships: 2
Critical Language Scholarships: 2
Bishop Scholarship Foundation: 1
National Health Service Corps Scholarship: 1
Nicole DelRosso's Fulbright
Nicole DelRosso came to Hampshire College to study sculpture. Six years later, she won a Fulbright to study in Germany.
In her Fulbright application, DelRosso 12F explained that her interest in sculpture morphed through her undergraduate studies into a desire to design nanoscale objects mimicking the behavior of molecules and cellular components. "Designing at this scale allows me to experiment with machines subject to the same forces that govern cellular life," she wrote. "Constrained by the laws of physics and biology, the structures I create are no longer just beautiful forms. They are functional art and, with them, I can shed light on the workings of the living world."
In her final year at Hampshire, DelRosso leveraged the Five College Consortium to carry out her senior-thesis research in Professor Nathan Derr's lab at neighboring Smith College. Serving on her faculty committee for her Division III were Professor Derr (chair), and Hampshire Professors Sarah Hews and Lee Spector. Read Nicole DelRosso Div III Profile.
DelRosso has been published by two international journals, Current Opinion in Biotechnology, and Angewandte Chemie International Edition. In 2016, she was the only undergraduate invited to present her thesis research at two international science conferences: the DNA22 Molecular Computing International Conference, in Munich; and 
the Foundations of Nanoscience Conference, in Utah.
DelRosso decided to decline her Fulbright and instead to continue her biophysics research at the University of California, San Francisco.
After Service in AmeriCorps and Peace Corps, Leanna Pohevitz Earns Fulbright to Brazil
Leanna Pohevitz received a Fulbright to serve as an English Teaching Assistant in Brazil for nine months beginning in early 2018, an opportunity to advance her teaching skills; learn about the people, education system, and culture of the country; and practice Portuguese.
A prolific world traveler and a linguist, Pohevitz is actively and formally studying 14 languages. She wrote in her Fulbright application, "I became passionate about learning and teaching languages as I realized that if I spoke them, opportunities to engage with the world became available."
Before leaving for her Fulbright service, Pohevitz 08F is completing her time with AmeriCorps in the Montana Conservation Corps, building trails in national parks.
She served for two years in the Peace Corps in Morocco, where she taught English to hundreds of students, ages 4 to 83, and spent two years creating an English health curriculum. She is a three-time recipient of the Critical Language Scholarship, also administered by the State Department.
Read more about Leanna Pohevitz's Fulbright award.
Justin Baldwin Earns M.S. Degree from UMass and Fulbright Award To Colombia
Justin Baldwin 09F has earned a U.S. Student Program award to conduct ecology research in Colombia.  Baldwin will serve a year in Colombia conducting field research on the functional ecology and natural history of birds and bats in the Western Andes and teach statistics courses to young biologists. As a biologist, Baldwin studied organismal field biology at Hampshire, graduating in 2013, and he says he enjoys studying animal science and behavior. As a biostatistician (M.S., biostatistics, UMass 2017) he enjoys analyzing data and working with people to solve life's persistent data-driven questions. Colombia is home to over 1,800 species of birds, and Justin hopes to continue doing research in Latin America afterwards. https://onsa.umass.edu/current-winners/justinbaldwin3702-2/
Rebecca Thomas Earns Fulbright Award to Teach in Ecuador
Rebecca Thomas 07F has received a Fulbright English Teaching Assistant Award to work in an Ecuadorean classroom this fall.
Previously she was a senior program assistant at the Five College Center for the Study of World Languages, part of the Five College consortium and housed in Amherst. At Hampshire, Thomas's studies centered on environmental issues and social justice. A semester in Senegal, as well as an experience abroad in Paraguay in the gap year between high school and college, cultivated a deep interest in foreign cultures.
Read more about Thomas's Fulbright award.
The Fulbright U.S. Student Program is the largest exchange program in the United States, offering opportunities for recent graduates and young professionals to undertake personalized international graduate study or advanced research or to work as English teaching assistants worldwide. The program, funded by the U.S. State Department, currently operates in more than 140 countries. For more information, visit the Fulbright program Website.
[Story revised January, 2018]
1