Four Hampshire Student Businesses Win Pioneer Valley Grinspoon Entrepreneurship Awards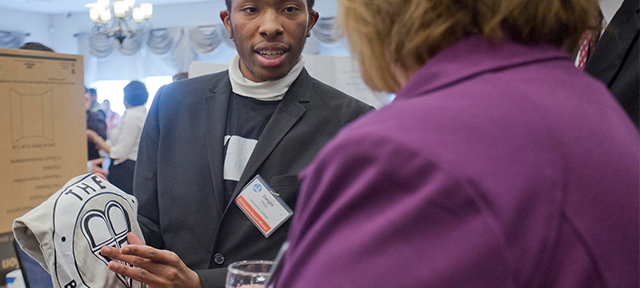 Four Hampshire College students and student teams were selected as winners of 2018 Grinspoon Entrepreneurship Initiative Awards, announced The Hampshire Entrepreneurship Program this week.
Now in its 15th year, the Harold Grinspoon Foundation's Entrepreneurship Initiative encourages entrepreneurial activity in the Pioneer Valley, including by recognizing and awarding college students who display entrepreneurial spirit. On April 25, the initiative marked its 15th anniversary with a banquet at the Log Cabin in Holyoke. 
The Hampshire student awardees and their businesses at the event were:
Dwight Young, Justin Craig, The Black Valor, lifestyle brand clothing
Nirman Dave, Tapu Debnath, Ta'afaki Moore & David Pearl (alum), Teamwerk, online teambuilding platform
Caroline Belge, Le Grá, inclusive photography
Aaron Andrews, Simply Smooth, skin/haircare products for people of color and men
Andrews was honored with an additional award at the event, which featured a "trade show" exhibition where all 54 award winners displayed and promoted their businesses. Five student businesses were identified by judges from community banks as Best Exhibitors, including Andrews's Simply Smooth. 
Students also competed in the annual Elevator Pitch Competition sponsored by the local community banks – Berkshire Bank, Country Bank, KeyBank, PeoplesBank, United Bank and Westfield Bank – and judged by bank representatives.  Darleane Torres represented Hampshire. Earlier in April, Torres had won a Five College Award at the Smith Draper Business Plan Competition for her business, Painter Printer.
In all, 68 college students from across the Pioneer Valley received awards of up to $1,500 in recognition of their Entrepreneurial Spirit.
Daniel Ross, visiting assistant professor of social entrepreneurship, is Hampshire's Grinspoon faculty advisor. The Hampshire Entrepreneurship Program was excited that Hampshire College was represented by a range of participants, from first-year students to recent alums, as well as an alum enterprise featured during the keynote.  Banquet guests heard from keynote speaker, Caroline Pam of the Kitchen Garden Farm in Sunderland, MA, which is co-owned by Hampshire alum Tim Wilcox .  Pam shared their inspiring story of success – starting with one acre in 2006 and expanding to a 50-acre certified organic vegetable farm.  Kitchen Garden Farm delivers to some of the best restaurants and retailers in the Northeast and also makes award-winning sriracha and salsa.
About the Hampshire Entrepreneurship Program
Entrepreneurship at Hampshire strikes a balance between the College's commitment to social entrepreneurship and innovative, technology-based solutions to the toughest challenges facing our world. True to the college's origins, Hampshire's Entrepreneurship programming emphasizes two strengths: real world, hands-on learning, and pushing the envelope of standard educational practice. The program offers on-campus events and workshops plus summer internships with startups to introduce students to the day-to-day experience of operating a for-profit or nonprofit venture. In addition, Entrepreneurship collaborates with other colleges and local organizations to provide students with opportunities for networking and mentorship.
The program hosted 10 events this year, with some 165 students and others participating.
The Hampshire Entrepreneurship Program also offers courses where students study mainstream business models for leading the growth of new ventures and explore alternative venture models such as cooperatives and social enterprises.  Students acquire the skills necessary to start and scale their own businesses or other organizations for long-term success.  Five courses were offered this academic year, enrolling roughly 80 students.
Entrepreneurship often partners with on- and  off-campus organizations to combine resources for new courses and events that respond to global challenges. One partnership involved Hampshire's Ethics and the Common Good program (ECG) on a Solidarity Economy event series, which invited entrepreneurs and community organizers including Hampshire alums to speak on developing new methods for using entrepreneurship to support social justice and environmental initiatives.
Finally, through its Seed Fund for Innovation (SFI) students can apply for seed funding for their own businesses or learn about and participate in the investment process by participating in the SFI student committee. This year, five Tier 1 Seed Fund Grants were awarded to students and recent alums. 
Other activities of the Hampshire Entrepreneurship Program this year:
A Hampshire student and an alum participated in the Valley Venture Mentors Spring 2018 Accelerator, with awards to be announced at the end of May.
Four students were accepted into the Valley Venture Mentors 2018 Collegiate Accelerator for June-August 2018
Four students will be participating in paid summer internships at host organizations both in the U.S. and abroad.
Visit The Hampshire Entrepreneurship Program Website
Grinspoon Entrepreneurship Initiative program is made possible by the Harold Grinspoon Charitable Foundation and a successful collaboration among 14 participating colleges and universities.  Since the program began in 2003, over 760 students have received awards exceeding $600,000. For further information, visit their website.
1