For Hampshire Alum Allie Thorpe, a "Cathartic" Div III Leads to a Fulfilling Career Path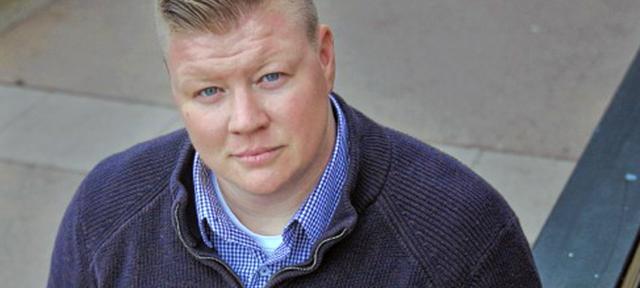 Hampshire College alum Allie Thorpe 10S had an unexpected path to her current career in digital project management. It started while at Hampshire a decade ago, thanks in many ways to her Div III.
Thorpe transferred to Hampshire College in 2010 after leaving the military and concentrated on LGBTQ+ history and web design. She became very interested in collecting stories of service members who were also part of the LGBTQ+ community, and, like herself, had been discharged under the military's former "Don't Ask, Don't Tell" policy. Thorpe's Div III became an oral history project and website that housed interviews from a variety of service members.
Thorpe still remembers being invited to a Hampshire event and, in front of the crowd, playing the recording of her own story she had made for the project. "It was a transformative moment, and cathartic, seeing people in real time react to me and my experience. It's not an overstatement to say that moment changed my life, seeing the way that community can really come together in the face of adversity and strive for positive change for the world."
Thorpe, who described herself as "on the wild side" as a teenager, feels that she wouldn't be where she is now without her experience at Hampshire. "I liked to push boundaries and throw caution to the wind and do all the big scary things without thinking about how that affected the people around me. And then I enlisted, and I learned about camaraderie and teamwork and how one person's actions can affect the whole. When I got out of the military and started college, I got to see, historically, how individual people had a ripple effect on the world around them and how I as one person could have an impact on a larger community."
Throughout her career in web development and communication, Thorpe has continued searching for ways to make positive change, including her work as a digital project manager at DevCollaborative, a women-owned, queer-led web development firm that works solely with nonprofits. Most recently, Thorpe and DevCollaborative oversaw the completion of a new website for the Eric Carle Museum, which is located on the Hampshire campus as part of the Cultural Village. The project in many ways, brought Thorpe full circle in her journey.
"Hampshire was just an incredible experience," Thorpe said, "I would do it over again in a heartbeat."
1