Hampshire Alum Jessie Hendricks 02F Takes Viewers Inside The Getty in YouTube Series "Becoming Artsy"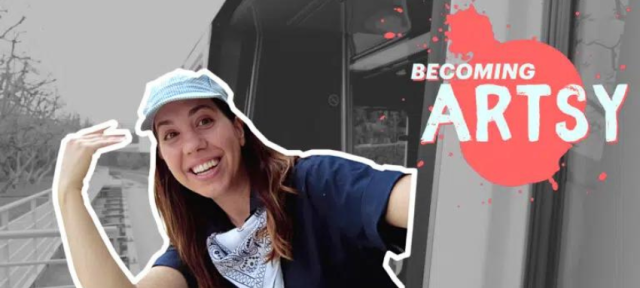 "I'm a science-y math kind of person and yet I work at the Getty, famous for its art and culture, so I decided to go on a quest to learn about art and discover all I can," says Jessie Hedricks 02F in the opening credits of her YouTube series Becoming Artsy.
Together with experts and educators, in the dynamic video series, Hendricks explores everything from jousting and medieval manuscripts to grave robbing and anatomical illustrations to gardening. The videos give art experts—and art newbies—an all-access pass to the Getty's collections, laboratories, and gardens. As the host, Hendricks creates a fun, lighthearted environment that draws people in and invites them to explore topics some might otherwise have thought to be stuffy or inaccessible.  
"Becoming Artsy was created to offer educational and engaging content in a fresh format, which we hope will introduce many new audiences to art and history," said Lisa Lapin, the Getty's vice president of communications in a recent blooloop article.
Catch up on past episodes of the show on Getty's YouTube channel, and tune in for season two. New episodes are released every other Tuesday. 
Hendricks earned a master of science in science writing from MIT. Prior to MIT, she graduated from Hampshire College with a B.A. after focusing on natural sciences.
Photo from The Getty's YouTube Channel
1