Hampshire Alum Noah Falstein 75F P08 Specializes in the Intersection of Games and Healthcare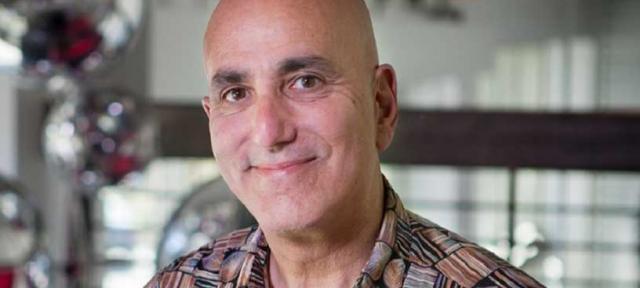 Noah Falstein's Div III "Koronis Strike: A Simulation of Mining and Combat in the Asteroid Belt," was Hampshire's very first computer game thesis project. Today, with 40+ years in the industry, Falstein continues his track of firsts as an acclaimed innovator in the game design industry.
He's worked with legends like George Lucas and Steven Spielberg, served as Google's chief game designer, and was a core member of the team that created the first FDA-cleared game to treat pediatric ADHD. It even made the cover of the journal Nature—the only video game ever to do so (so far). Specializing in the intersection of games and healthcare, Falstein's career has centered on the ways in which video games can be employed to help treat neurological conditions. Recently, we had the pleasure of connecting with him virtually to learn about his current projects, entrepreneurial path, the influence of his Hampshire education, and more. 
What did you study at Hampshire? What was your Div III?
I started focusing on astronomy and physics, but soon realized I didn't want to be an astronomer and shifted to computers. I discovered computer games my first week or two at Hampshire and got hooked on them, but didn't realize I was setting on a lifelong career path—I don't think there was such a thing as a career in computer games in 1975. 
Were there particular faculty/staff members who inspired/supported you?
There were several who encouraged me, but I have to thank an advanced student, Chris Spellman, for teaching the APL programming class that both introduced me to the games they had on the UMass mainframe and taught me the language I used for my Div I, and my Div II and III projects. Also, Professor Al Woodhull got me a lead for my first job in the games industry on graduation, as he'd been doing summer work at Milton Bradley in Springfield and knew they were hiring so he introduced me to them when I graduated in January, 1980 and it became my first full-time job.
What are you doing now? How did your experience here influence your current work?
I am a freelance game designer and producer, specializing in the intersection of games and healthcare. Hampshire was fundamentally influential for me in several ways. Having the freedom to show off what I'd learned in computer programming and astronomy by making a realistic simulation game (and having a lot of fun in the process) was very motivating for me, and the kind of independent work I did on my Div III was great preparation for most of the kind of work I've done since then. But also, I found that the confidence to design my own path at Hampshire and the encouragement of entrepreneurial thinking eventually led me to strike off on my own as a freelancer after spending my first 15 years working in established companies and others' startups. Since 1996 I've been running my own consulting business, except for four years as Google's chief game designer (an opportunity too tempting to pass up).
"When I proposed a video game as a Div III, several people warned me that video games were a fad that would blow over." Noah Falstein 75F P08
Are there specific achievements you'd like to share?
I'm best known in the games industry for my work in the early days of Lucasfilm Games, which became LucasArts Entertainment. I worked with both George Lucas and Steven Spielberg on games that are still attracting attention today like The Secret of Monkey Island and Indiana Jones and the Fate of Atlantis.
But more recently I've been making games that help train doctors and help patients directly as treatment. I was one of the original team members 13 years ago on a project called Neuroracer that made the cover of the journal Nature—the only video game ever to do so. Later that project became the seed of the company Akili Interactive, which in turn received the first (and so far only) FDA clearance for a game that all on its own can be prescribed by doctors, in this case, to treat pediatric ADHD. The company is going public later this year at a value of about $1 billion, but I'm proudest that it demonstrates that games are being taken seriously as a way to treat neurological conditions. Not just ADHD but anxiety, chronic pain, depression, PTSD, trauma, and more. 
Can you elaborate on a few projects you've worked on as a pioneer of digital therapeutic technology?
Besides Akili, I contributed to a game called ReMission that was able to help teens with cancer learn to stick to their chemotherapy regimen, with results published in the journal Pediatrics. And one of my current projects is one of the most creatively and technically challenging ones I've ever encountered, working with a German company called Dopavision making a virtual reality game that is designed to diminish and even perhaps cure cases of myopia (nearsightedness) in children by administering a specific frequency of blue light. I'm also working on an innovative game-based treatment of chronic pain called TrainPain that teaches people to re-interpret pain signals as tolerable sensations they can ignore.
What would you say to a prospective student?
Have the courage to explore your passions, even if they seem fairly wild or impractical at the time. When I proposed a video game (running on Hampshire's single video terminal on campus!) as a Div III, several people warned me that video games were a fad that would blow over, and none of my teachers had any experience with them—but they at least encouraged me to try. However, it helps to have a solid backup plan—I was ready to do boring business computer programming if I had to in order to earn a living, I'm just delighted that it never became necessary!
You can view his website here: theinspiracy.com
Image Credit: Michael O'Donnell/VentureBeat
1