Hampshire Alum Robin Coste Lewis 86S Named MOMA Ford Foundation Scholar in Residence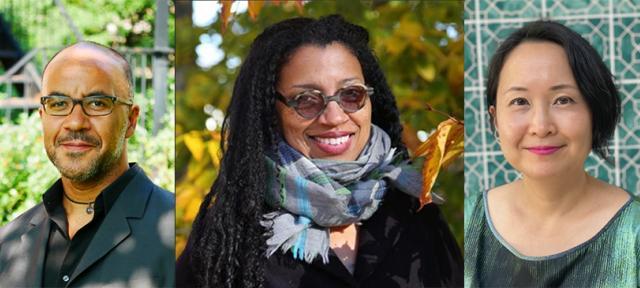 Lewis is one of only three acclaimed art professionals to be selected for the inaugural cohort.
The Ford Foundation Scholars in Residence at The Museum of Modern Art (MoMA) will be inspiring thinkers who offer fresh perspectives on the history of modern and contemporary art, and on the Museum's collection and archives. The pilot program seeks to support the work of thought leaders with demonstrated records of achievement to pursue their own independent research projects that make use of MoMA's resources. The Scholars will also participate in internal curatorial conversations that set the course for the Museum's collection presentation, exhibitions, acquisitions, and programming.
Hampshire College alum Robin Coste Lewis 86S is a writer, artist, and scholar, currently a writer-in-residence at the University of Southern California. She joins prize-winning author and Columbia University Professor of Comparative Literature Brent Hayes Edwards and attorney, writer, and Professor of the History of Art at the University of Michigan Joan Kee in receiving this award.
"I am especially honored to be invited to spend the year in the company of such elegant and rigorous minds!" Lewis posted on her Instagram.
Her debut poetry collection, Voyage of the Sable Venus, won the National Book Award for Poetry in 2015—the first time a poetry debut had won the award since 1974. Lewis is also the author of Inhabitants and Visitors.
Born in Compton, Lewis was the poet laureate for the City of Los Angeles from 2017 to 2020. In 2018, Lewis received a Woman of the Year award from Los Angeles County. Lewis is also recipient of the Rome Prize, a Guggenheim Fellowship, a Ford Foundation Art of Change Fellowship, and a Cave Canem fellowship, among others.
In addition to writing, Lewis regularly collaborates with visual artists, including Glenn Ligon, Lorna Simpson, and Julie Mehretu. Her own text and image projects have been exhibited at the Huntington Museum, the Underground Museum, Hauser & Wirth, and Galerie Marian Goodman (Paris). In addition to her B.A. from Hampshire College, Lewis received an M.T.S. degree in Sanskrit from Harvard University's Divinity School; an M.F.A. in poetry at NYU; and a Ph.D. from the University of Southern California, where she was a Provost's Fellow in poetry and visual studies.
1