Hampshire Awards First Ikeda Soka Scholarship for Studies of Peace-Building, Empathy, Ethical Leadership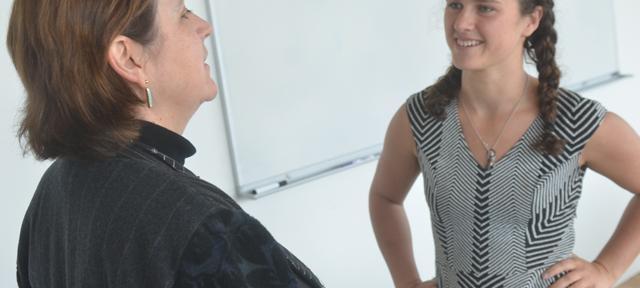 Hampshire third-year student Natalie Murphy Strohm has been awarded the first Ikeda Soka Scholarship, created with generous gifts totaling $500,000 to aid students whose academic work relates to topics such as peace-building, the science of mind–body health, and developing greater humanity in self and society. 
The endowment was established by Elisabeth Carter 82F, whose gift was matched by a trustee. Carter founded the scholarship in honor of Daisaku Ikeda, an internationally acclaimed Buddhist peace-builder, writer, and educator. The Japanese term soka means "value-creation" or "to create value," and refers to the capacity to contribute to the well-being of others under any circumstance. In that vein, the scholarship will support students whose studies encompass aspects of peace-building, cross-cultural understanding, ethical leadership, community development, or research on the connection between mind and body in health.
Strohm, a Division II student, has concentrated on children and families, mind–body health, and how compassion and empathy can be teachable practices that improve physical and mental health and foster positive social change. She takes an interdisciplinary approach, one that encompasses developmental neuroscience, childhood learning, psychology, and anthropology and applies these to community-based programs and education. Strohm has taught in a preschool classroom, worked with the Holyoke Early Literacy Initiative, collaborated with groups such as Divest UMass, Popular Resistance, and the Water Protectors in North Dakota, and co-created Youth Empowerment through Safer Sexuality (YESS), which provides resources and workshops for teens in Massachusetts and Thailand. 
In establishing the endowment, Elisabeth Carter said, "I believe in Hampshire students and their potential to create change in the world, and I hope the scholarship will give access to Hampshire's unique educational opportunity to humanistic, idealistic individuals interested in advancing the best of humanity who would not be able to attend due to financial limitations.
Carter added, "In the scholarship's areas of study, a student can learn about, and maybe even go on after graduation to develop and promote the highest potentials of human beings."
The scholarship is awarded as a financial-aid grant to one student who has the need, with the potential for three years of support. Strohm and Carter were recognized at a ceremony in the R.W. Kern Center on Thursday, April 13, at noon.
Strohm, whose faculty committee comprises Associate Professor of Cognitive Development Melissa Burch and Culture, Brain, and Development Program Director Pam Stone, is currently developing her plan for a year-long Division III independent project that she'll lead under their guidance. Strohm says, "I'm really inspired by this scholarship and so happy that something like this has been created and embraced by Hampshire. It supports study on emerging issues that are critical to our future."
The scholarship will be awarded as part of a student's overall financial-aid package for tuition and room and board, according to a process determined and approved by the Hampshire College director of financial aid. 
1