Hampshire Calls on Accomplished Culinary and Farming Alums for New Cafe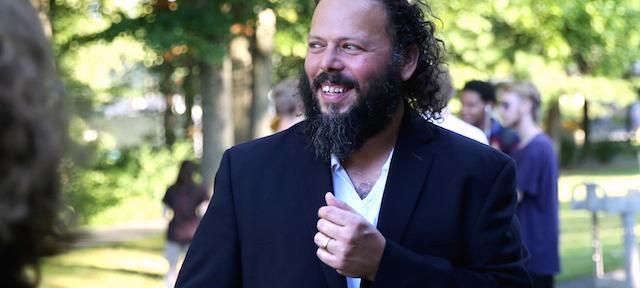 Hampshire alum Howard Wein, an accomplished restaurateur, is advising his alma mater on the operation of its new Kern Kafé and Prescott Bakery, a continuation of his work the past five years consulting the college on its goal to dramatically increase sourcing of food from local farms and producers. Sarah Klein 88F has been hired as full-time general manager of the new operation.
Working again in Hampshire kitchens is a homecoming for Wein 93F: As a student in the early 1990s, he ran a bread-baking business out of Prescott Tavern supplying the college's Community Supported Agriculture (CSA) members. He also worked as a baker at Amherst's Black Sheep deli, owned by Nick Seamon 75S.
The summer between his Division II and III years, Wein was a chef for the bands at Woodstock '94, the three-day music fest in Saugerties, New York, featuring performances by 70 of the world's top artists – Blues Traveler, Live, the Violent Femmes, Bob Dylan, the Red Hot Chili Peppers, etc etc.
That gig would lead to a second, even more memorable rock-and-roll catering job. In spring 1995, as he was finishing his Division III on the biochemistry and anthropology of sourdough-bread baking, Wein was hanging out in his mod at 1 a.m. when he got a call from someone claiming to be Mike D of the Beastie Boys.
"I said, 'No, it's not,'" Wein remembers. The caller insisted, and reminded Wein the two had met at Woodstock (Wein didn't need a reminder). Mike D invited him to be a chef on the band's North American Ill Communication tour. Starting right away.
So Wein called his Div III faculty chair, Alan Goodman, woke him up: "I said, 'I need to finish my Div III early, I'm going on tour with the Beastie Boys.' Alan said that was fine, but if I wanted to graduate, I still had to pass Professor Jarvis's class. So I agreed to check in weekly from the road and keep up with classwork."
Not long after that night, a limo picked up Wein from his Enfield mod and drove him to Bradley for his flight to L.A. He spent his last eight weeks of college as a chef on the Beastie Boys tour, preparing food for the band and crew from a mobile kitchen in a semitrailer truck.
"I didn't understand what I had said yes to," Wein says. He quickly learned he was one of the chefs responsible for three meals a day on-site at each concert, plus a fourth meal for the band post-show. He helped prepare the menu each week and called ahead to caterers in each city to procure fresh ingredients. "The band liked the idea of a healthy, balanced diet," he says. "In Dallas they expected local Texas steak; in Seattle, Pacific salmon."
He says the gig was an unbelievable experience. "I learned the same lesson I was learning at Hampshire: You have to be the entrepreneur of your life. Of your education and your life," he says. "I had no idea what I had signed up for, but I knew I could figure it out."
The tour schedule happened to match perfectly with Hampshire's commencement date. Wein left the tour in Worcester, in time to walk in his graduation.
Over the next two decades, Wein went on to earn a master's from Cornell's renowned School of Hotel Administration and worked his way up to executive positions managing restaurant groups and food and beverage divisions of major global hotel companies. He held senior positions with Morgans Hotel Group, Starr Restaurants, Starwood Hotels and Resorts, and W Hotels.
In 2011 he transitioned from executive work to establish his own business, Howard Wein Hospitality, an advisory and venture firm. He also threw himself into a dream project, opening the Alvah Stone in the historic Montague Mill, a short drive north of Amherst. The authentic-American restaurant and bar has already earned many accolades, including Best Restaurant for Creative American Fare in the Valley Advocate's annual Best Of poll.
In 2014, Hampshire announced its aim to source 100 percent of its food from within a 150-mile radius, with limited exceptions such as coffee, citrus, and fish, which are not local. They asked Wein to advise. It's an ambitious goal, as food-service provider Bon Appétit is currently procuring only about a third of campus food from regional sources.
"The biggest challenge is, how do you hit the student price point?" Wein says. He believes the regional vendors he works with at the Alvah Stone can help Hampshire get there.
The R.W. Kern Center and its café opened this summer, both designed by a Hampshire planning committee consisting of students, faculty, staff, and administration who worked in partnership with the architects and invited input from everyone on campus. The food providers already on board for the café and Prescott Bakery (the latest incarnation of Prescott Tavern, now serving as the kitchen for the café's baked goods) include some owned and operated by Hampshire alums:
Hampshire College Farm
Mapleline Dairy Farm, in Hadley
The Kitchen Garden, a 50-acre, certified-organic vegetable farm in Sunderland owned by Tim Wilcox 01S and Caroline Pam
Red Fire Farm, in Montague
Queens Greens, owned and operated by Danya Teitelbaum 02S and Matt Biskup, grower of certified-organic produce on 30 acres of land in Amherst and Sunderland
Warner Farm, in Sunderland.
Wein and café and bakery new General Manager Sarah Klein will be working especially close with Hampshire College Farm CSA Program Manager Nancy Hanson to feature the freshest ingredients available from on campus.
"There's a connection between my culinary perspective, and Howard's," Klein says. "We share a philosophy of supporting local farms and using what's grown here in season."
Remembering the excitement of the opening of Adele Simmons Hall when she was a student, Klein says she jumped at the opportunity to work in Hampshire's first major building since then. For her Division III, Klein studied social movements and labor unions, particularly the international union of the Industrial Workers of the World, aka the Wobblies. "When I graduated, I didn't ring the bell," she says. "Now I know why: because I'm back."
In the intervening 25 years, Klein complemented her bachelor's degree with one from the New England Culinary Institute and experience working as a chef in New York City, Seattle, Tucson, and, most recently, our own Pioneer Valley. Klein returned because she loves the valley, with its farms and local foods. (She comes back to Hampshire every year to pick wild ramps.) She was most recently the pastry chef at 30 Boltwood, the award-winning farm-to-table restaurant at the Lord Jeffery Inn.
In her new job, she'll oversee a staff of Hampshire employees and students. The cafe will be open seven days a week during the school year, from early morning through evening.
Both Wein and Klein say they're enjoying the challenge of managing a café in a living building that will operate 100 percent on renewable energy on an annualized basis, supplying its own water and treating its own waste water on-site.
All of the café's dishware, cups, and utensils are compostable. The electric appliances have to go through a vetting process for their power demands. Food produced in the bakery is being transported across campus to the café using an electric vehicle.
Klein says the café's coffee brand is Dean's Beans, an organic, fair-trade product roasted in the Bay State, a company whose progressive mission insists on environmentally responsible and socially just commerce.
Adds Wein, "Everything we do will be in the spirit of the building."
Kern Kafé summer hours are weekdays 8:30am to 1:30pm.
Photos by Amanda Schwengel
1