Hampshire College Admissions Numbers Up 17% for Fall 2023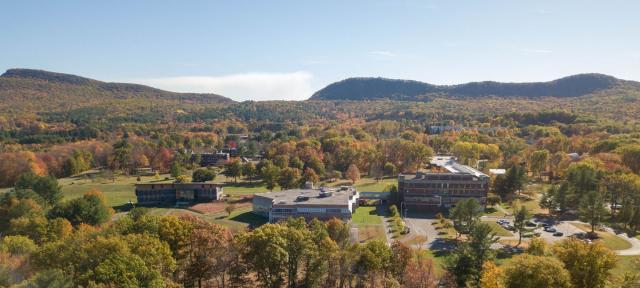 The largest entering class since 2018.
Hampshire is pleased to announce that as of its deposit deadline, 306 students accepted their offers of admission, declaring their intention to attend in fall 2023. Last year, the number of deposited students following the deadline was 261. The College has — for the fourth year in a row — significantly increased the size of the entering class and remains on track to return to full enrollment and financial sustainability by 2027.
"This is another indication that our radical approach to undergraduate education is resonating," said President Ed Wingenbach. "These numbers offer compelling proof that as students and families make their college choices, they're drawn to an experience organized around the generation of new possibilities, new questions, and new solutions to the complex challenges our future presents."
The incoming cohort will be the largest since 2018 and is a dramatic turnaround from 2019, when Hampshire's administration pursued a potential merger and declined to enroll a full fall class. In May 2019, the board of trustees voted to remain independent and the Hampshire community took a stand to preserve the College's independence and reinvigorate its mission.
Among the group of currently committed students are 285 first-years and 21 transfers. The deposit deadlines for transfer students extend into the summer, so this number is anticipated to increase. Three of the incoming transfer students are from New College of Florida and 20 additional New College students have begun the transfer process. In March, Hampshire extended an invitation of admission (with matching tuition) to New College of Florida students in response to the ongoing politicization of educational curricula there, restricting intellectual inquiry and discussion of issues of race, identity, and oppression.
The group of incoming domestic students come from 37 states. In addition to regular top-draw states, such as Massachusetts, New York, California, Vermont, Connecticut, and Pennsylvania, the College will enroll students from a number of states that represent future growth opportunities, such as Arizona, Colorado, Florida, Georgia, Illinois, North Carolina, Michigan, Oregon, and Texas. Thirty-one percent of the incoming class identify as BIPOC, 8 percent are international, and 37 percent are eligible for Pell grants.
"I committed to Hampshire College because of the welcoming community, the beautiful setting of the campus, and its nontraditional approach to education," said incoming student Katy Sullivan F23. "I'm a very driven and independent person, so being able to have an education where that's encouraged is so important. I can't wait to see what's in store at such a wonderful place,"
Hampshire is looking forward to welcoming the incoming class this fall, and to engaging them with the College's innovative academic program.
1