Hampshire College Maintains Accreditation, Advances Ambitious Plan for its Future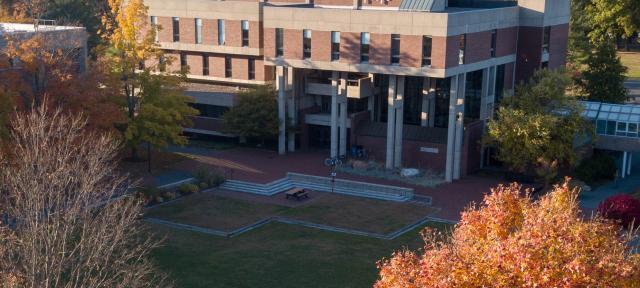 Hampshire College remains in compliance and will continue its accreditation, according to a vote by the New England Commission of Higher Education (NECHE) at its meeting on Friday, November 22 and a public announcement November 23. The ruling validates the College's new operational and financial plans and marks another critical milestone in a successful transformation supported by thousands of stakeholders who rallied for Hampshire's future.
NECHE reviewed Hampshire's progress report and five-year plans before acting to continue the College's accreditation. The Commissioners lifted their notation on Hampshire's compliance with the standard of Organization and Governance, citing significant progress in this area. NECHE recognized such progress as the hiring of a new president, substantial achievements with respect to good practices for governing boards, and considerable progress in realistic planning with respect to enrollment, fund-raising, and finances. The Commissioners continued Hampshire's notation on the standard of Institutional Resources, and asked the College for a full progress report in two years, in December 2021.
"We thank the Commissioners for their careful review and affirmation of our compliance with the Commission's standards for accreditation," said President Ed Wingenbach, who made accreditation a priority when he began his tenure in August. "Upholding our accreditation is a critical step toward securing a long future for Hampshire College. As we told NECHE, we see our path forward as ambitious, data-driven, and achievable."
A team of Hampshire College administrators and trustees, led by President Wingenbach and Board Chair, alumnus Luis Hernandez 70F, met with the NECHE Commissioners on November 21. They reported that Hampshire's leadership is secure and its Board of Trustees governance is strong. The College is actively recruiting new students for 2020, its 50th anniversary year, as it plans to rebuild to full enrollment by 2023-24. The College has also been conducting a rapid, community-wide process to reinvent its curriculum and student experience.
In the coming months, Hampshire will draw on the continued support of its alumni, donors, friends, and community members to meet admissions and fundraising goals.
Rebuilding Toward Full Enrollment
Hampshire is now implementing a plan to achieve long-term financial sustainability and rebuild to full enrollment, attracting a diverse population of students who will thrive in the College's distinctive program. Its Admissions Office is reviewing applications already received for spring 2020 and actively accepting new applications for fall 2020.
Prospective students can now
Hampshire's deadlines to apply for Fall 2020 are
January 15 for Early Action, and
February 1 for Regular Decision
Fundraising Campaign to Launch on December 3
Hampshire will launch a fundraising campaign on December 3, with the goal of raising $60 million in unrestricted operating support by 2024; the campaign has already raised $10.7 million toward that goal, including more than $1 million in new gifts and commitments during the month of November. Alumnus Ken Burns 71F has committed to serve as a co-chair.
Last year's decision under previous leadership to only admit a small class this fall will affect the college's operating budgets this year and until 2024, but Hampshire's new plan maintains balanced budgets through fundraising, managing costs, and generating revenue.
Extending a Legacy of Academic Innovation
Hampshire this year is actively reinventing its renowned academic program with innovations aimed at recruiting new students, making the program more sustainable financially, and transforming higher education following the college's mission.
The emerging new model — built on the College's long legacy of rejecting passive lectures and exams, restrictive departments, and prescribed majors — will invite students to ask big questions and draw on approaches from any field in order to find answers. Responding to student interest in addressing the challenges of the 21st century, Hampshire is reorganizing itself around critical, pressing questions of our time, rather than around schools or majors or specializations, enabling more collaboration across disparate fields, and freeing students to innovate in pursuing questions never asked before. Students will continue to have the freedom to design their own academic program with the guidance of faculty and staff, a hallmark of the Hampshire experience.
"Asking great questions demands a suite of complex skills — starting with posing a great question and figuring out how to take a project from idea, to investigation, to concept, to completion," Wingenbach noted, adding that the challenges of today's world are interconnected and require multiple perspectives, methods of inquiry, and an entrepreneurial mindset beyond what a traditional liberal arts education can provide. "We're committed to supporting all students in cultivating entrepreneurial and design skills as they pursue meaningful questions and work across disciplines," he said.
Hampshire's new framework was developed with input from hundreds of the College's community members and coordinated by members of a campus Academic Innovation Planning Group, who reviewed institutional research from recent years and hosted a series of open campus meetings throughout the fall. The new model will be built this academic year and implemented for its incoming class of Fall 2020, when the College will also hold its 50th anniversary celebration.
Hampshire was founded by its partners in the Five College Consortium as a major departure from traditional colleges, empowering students to design their own program, learn to perform serious independent work, and explore freely across disciplines. The offerings of its partner colleges — Amherst, Mount Holyoke, and Smith Colleges, and UMass Amherst — will be essential for Hampshire to realize its new vision; the Consortium enables students of its partner institutions free, open access to a breadth of resources, including thousands of courses, libraries, symposia, certificate programs, clubs, events, transportation, and more.
About Hampshire's Accreditation
In March 2018, Hampshire College received reaccreditation after successfully completing a comprehensive review, an extensive process involving a self-study and a site visit by leaders from other accredited institutions. Comprehensive reviews are conducted by NECHE every ten years.
On February 1, 2019, based on concerns about the College's long-term financial sustainability, Hampshire's Board of Trustees voted to enroll only a limited incoming class while leaders proposed forming a strategic partnership. On the strength of an unprecedented outpouring of new support from thousands of community members, the Board was sufficiently confident to change course and two months later voted to pursue keeping Hampshire an independent college and to engage fully in fundraising for that purpose.
In May 2019, a team of Hampshire leaders attended a NECHE "show cause" hearing, attesting that the College remains in compliance with its accreditation standards in two areas: Organization and Governance and Institutional Resources. In June 2019, NECHE and Hampshire jointly announced that because of the College's unprecedented transition and the need for further progress and data, the Commission had decided to issue the College a public Notation while deferring a formal vote on compliance against these two standards until November 2019. This is the vote the Commission has just taken.
Hampshire secured its first accreditation in 1974, four years after its opening.
About Hampshire College (Amherst, Mass.)
Hampshire College's national reputation is based largely on the mainstreaming of many of its experimental ideas in education, and its influence on its community and society broadly. Hampshire's mission includes transforming higher education, and over the years the College has pioneered or propelled many high-impact learning practices, including:
Student-designed learning
Project-based learning
Interdisciplinary studies
Capstone projects
Faculty-student co-learning and collaboration
Independent and field study
Community-based and service learning
Entrepreneurial learning
Many of its innovations in undergraduate education have been adopted at countless other institutions.
The College's success can be measured in its roster of alumni achievements: Oscar and Emmy winners, best-selling authors, scientists, historians, Peabody awardees, and MacArthur "genius grant" recipients. More than a quarter have started their own enterprises — social ventures, investment firms, advocacy organizations, film companies, businesses, and more.
Hampshire students and young alums have a record of consistently earning national recognition spanning Fulbright Awards, Gilman Scholarships, Princess Grace Awards, National Merit Scholarships, Freeman Asia Scholarships, and more. Hampshire is also in the top three percent of schools (top 40 U.S.) whose alumni advance to earn Ph.D. degrees, per federal National Science Foundation data; two-thirds of its graduates earn advanced degrees within ten years of commencement.
Hampshire has long been committed to justice and positive change in the world, demonstrated through the decades in such ways as divesting from apartheid South Africa and avoiding investments in weapons makers, fossil fuels, and most recently private prisons, as well as committing to advocating for human rights, women's rights, and civil rights broadly. Hampshire strives to make its education accessible to a broadly diverse student body through its progressive admissions and financial aid strategies. The College is consistently ranked as one of the top LGBTQ-friendly colleges in the U.S.
Hampshire is a leader in environmental sustainability and was the first to divest from fossil fuels. In 2016, it opened the R.W. Kern Center, the second largest net-zero living building in higher education, and then installed campus solar array fields and formed green-energy partnerships to be able to operate 100% solar for electricity.
1