Hampshire College Returns to In-Person Commencement, Celebrating Three Classes of Graduates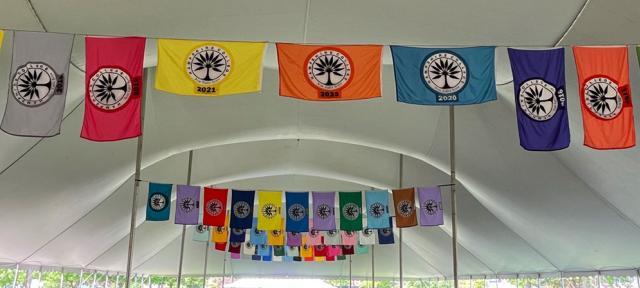 With messages of community, perseverance, and activism, and with exuberant celebration, graduates were recognized.
On May 21, 2022, Hampshire College was thrilled to host its 52nd Commencement, conferring degrees to this year's graduates, as well as celebrating alumni from 2020 and 2021. Because Commencement activities were held virtually the past two years due to the disruption caused by the Covid-19 pandemic, recent graduates were invited to return to campus to partake in the traditional in-person event. Families, friends, and caregivers gathered under a giant open-air tent in the center of campus to join in the festivities. All three classes were acknowledged for demonstrating extraordinary creativity, devotion, and courage during the College's most challenging period in history.   
Unfortunately, President Ed Wingenbach was unable to attend the ceremony, as he was recently diagnosed with Covid-19. Student moderators Judah Vashti Doty 18F and Zahria Thomas 18F delivered remarks on his behalf: "You did what every Hampshire College graduate has always done: you faced ambiguity, embraced radical freedom, learned from failure, and, with the help and support of mentors and colleagues in the staff, faculty, and community, you created something entirely your own, something of quality, beauty, and meaning. That's what it means to have a Hampshire College degree. It will serve you well for the rest of your life."
 
The message concluded with these words from Wingenbach: "Hampshire's mission is to transform higher education. The mission of our graduates is to transform reality. At this moment of possibility and necessity, you are what the world needs. You are why the world needs Hampshire College."
There are too many educational institutions that run away from the truth. So, I am so proud that we seek out and attract students who want to be told the truth instead of being protected from the truth. At other colleges, they fire professors for the stuff we get to teach at Hampshire.Keynote speaker Loretta Ross
Further addresses were delivered by Board Chair Jose Fuentes 05F, staff member Erdim Yilmaz, and student speaker Iyanu Bishop 18F. "Even though I came here for the educational model, it was you all, my peers who made me stay," Bishop said, addressing her classmates. "Each one of us grounded ourselves in the potential this model has and committed ourselves to the obstacles. Even though many of you held roles that were overwhelming, that made you question your gifts, you pushed through. Through community, we created new pathways to understanding and new pathways to connection. What is a school without its students? At Hampshire, we are the fire that keeps this place going."

The keynote speech was given by activist, public intellectual, and scholar Loretta Ross, who currently serves as an associate professor of the study of women and gender at Smith College. "Despite all the horrible news we are facing, we will not give into despair. We will not give into bitterness. We will not give into anger," Ross said. "Most of all we will not give into revenge. Because when you engage in those emotions, you have let your oppressor set up camp for free in your heart."
 
On the "calling in" culture, a topic she regularly engages in, Ross shared, "If you are secure in who you are and what you know, it becomes a joy to offer people love and respect. And when you lead with that love and respect because you are secure in your own integrity, you are blessing the world with your presence."
A former faculty member of Hampshire, Ross included, "There are too many educational institutions that run away from the truth. So, I am so proud that we seek out and attract students who want to be told the truth instead of being protected from the truth. At other colleges, they fire professors for the stuff we get to teach at Hampshire."
Assistant Professor of Creative Writing and African American Literature and Art Nathan McClain offered a congratulatory toast: "Poet Lucille Clifton once said, 'I write out of what I wonder. I think most artists create art in order to explore, not to give the answers. Poetry and art are not about answers to me; they are about questions.' I want to thank you for the questions you have invited us to explore together. Questions that might frighten us, trip us up, get the better of us. Because what we have learned, here, together, is how to tackle them, or simply that we must tackle them—we have learned that we are up to the task."
"Hampshire is a place where you get to find yourself, or rather, multiple and more selves you could be," alum author Chen Chen 07F said in the final address of the event. "At many other schools, there is so much pressure to decide—your major, your career, your entire life path. I keep thinking of the title of the late, great June Jordan's collected poems: Directed by Desire. Here, I got to be directed by my own desire to learn, to write, to make out of my life freshness, tenderness, surprise, queer and musical joy, alternate ways and spaces in which to thrive."
 
Vice President for Academic Affairs and Dean of Faculty Christoph Cox then handed out diplomas to 167 graduates from 2022, along with more than 130 grads from the two previous classes. Newly minted alumni are 32 percent BIPOC, 16 percent first-generation college graduates, and include seven international graduates.
 
Erdim Yilmaz closed the ceremony: "You are writers, actors, scientists, painters, dancers, video game designers. You are all dreamers. We are all dreamers. Please don't give up on your dreams. Make your dreams a reality."
 
After the main event, a celebratory reception was held on the library lawn for all. Congratulations to the graduates of 2020, 2021, and 2022!
>> View photos from the weekend's celebration
1