Prominent Activist Loretta Ross to Deliver Commencement Address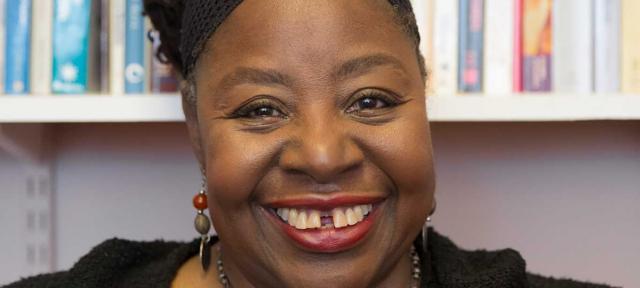 Today, Hampshire College announced that Loretta J. Ross would be the keynote speaker at its 52nd Commencement ceremony.
For more than 40 years, Ross has been a prominent public intellect, activist, and scholar. Her work centers on women's rights, human rights, and reproductive justice—a term she is credited with co-creating. During the academic year 2017–18, Ross held a one-year appointment as visiting associate professor in women's studies at Hampshire, teaching the course White Supremacy in the Age of Trump. She currently teaches about the call-out culture and white supremacy at Smith College, where she has served as activist-in-residence.

The 2022 Commencement ceremony will take place the morning of Saturday, May 21. In addition to this year's graduates, Hampshire will welcome back the graduating classes of 2020 and 2021, who were unable to hold in-personal celebrations due to the pandemic. The ceremony comes as the College is more than halfway to its $60 million Change in the Making campaign goal, as admissions efforts are set to result in the largest incoming class in years, and as faculty roll out a radical new academic program organized around urgent global challenges rather than academic disciplines.

Ross's forthcoming book is Calling In the Calling Out Culture. She speaks often on that topic, lecturing recently at the University of Michigan, UMass Amherst, and the University of Virginia's Community MLK Celebration. "Calling in," she says, is accountability based on love, not punishment; is restorative, not punitive; and seeks to heal, not harm. She advocates for a calling-in culture to build human-rights movements, and her message is particularly resonant for Hampshire as the College works to fulfill its anti-racist commitments and implements a practice of restorative justice on campus.

Her career in social change began in the 1970s, after her freshman year at Howard University, and until her retirement as an organizer, in 2012, Ross worked with the National Football League Players Association, the D.C. Rape Crisis Center, the National Organization for Women, the National Black Women's Health Project, the Center for Democratic Renewal (National Anti-Klan Network), the National Center for Human Rights Education, and SisterSong Women of Color Reproductive Justice Collective.
A 2007 graduate of Agnes Scott College, Ross went on to teach about activism. She is a principal partner with 14th Strategies Consultants, a public affairs strategic agency dedicated to helping organizations, universities, and corporations live up to the 14th Amendment of the U.S. Constitution. 

Ross is a contributor to Hampshire faculty member Marlene Fried's anthology Abortion Rights to Reproductive Freedom: Transforming a Movement (1990) and coauthor with Fried, Jael Silliman, and Elena Gutiérrez of Undivided Rights: Women of Color Organize for Reproductive Justice (2004). She is also the author of Reproductive Justice: An Introduction, cowritten with Rickie Solinger, and Radical Reproductive Justice: Foundations, Theory, Practice, Critique, both published in 2017.