Hampshire College Student Theatre Presents Fall 2018 Productions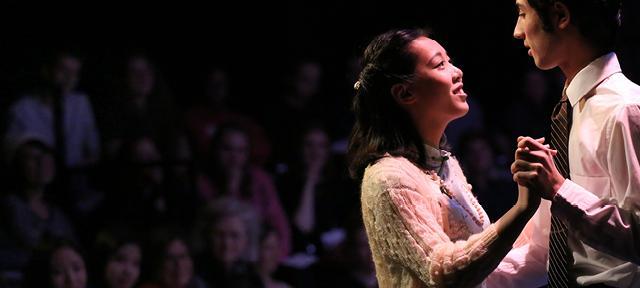 Two plays are going up this weekend in the Hampshire College Studio Theatre, and tickets are available now. The first, Marisol, is a published work by the award-winning playwright and Oscar-nominated screenwriter, José Rivera. The play revolves around a single character, Marisol Perez, during the biblical apocalypse brought on by a war in the heavens: It is about a young Puerto Rican woman living in New York whose guardian angel must leave her to fight in a war against god. The play was "slotted" by Div II Brianna Turnbull, and productions are on October 18th and 20th at 8:00 p.m. with a matinee on October 21st at 2:00. Reserve your tickets here.
The second play was written by Div III student Tristan Cameron. Revolving around themes of adolescence, family, seeking support, and identity, Weeping for Life is a premiere that will be staged on October 19th and 20th at 8:00 p.m. and October 20th at 2:00 p.m. Reserve your tickets now.
A staple of the Theatre department at Hampshire is the Slotted season. Each fall the Slotting Committee, a group of students chosen for their experience in the department advised by a faculty member, decides which productions the following year will be given priority of space and a designated budget. Slotted shows are picked from a pool of applications submitted by students from every and any theater discipline, from acting and directing, to design and fabrication. This  process allows theatre students to not only understand what good theatre looks like but also what it takes to make good theatre happen. Some productions need money and space and a big production team and others don't, and this process helps students understand what controls those needs and how to best meet them.
For the past two years, however, one of the slots has been given not to a single production but to several. This is called the workshop slot, and it was specifically created to bring students out of their comfort zone and get them to participate in other realms of theatre. Actors are encouraged to grapple with the intricacy of lighting design and crew behind the curtain are encouraged to step out in front of it. This gives students a space to understand the mechanics and difficulties of making theatre and learn how to work as a team, all supporting the same goal.
Next month, another student written show is going up in the November slot. Division III student, Aria Acevedo, wrote Esperanza, a magical realist, Chicana play centering identity and generational trauma. This play goes up November 14th-17th at 8:00 p.m. and November 18th at 2:00 p.m.
1