Hampshire Course on Special Education and Inclusion Receives Endowment Gift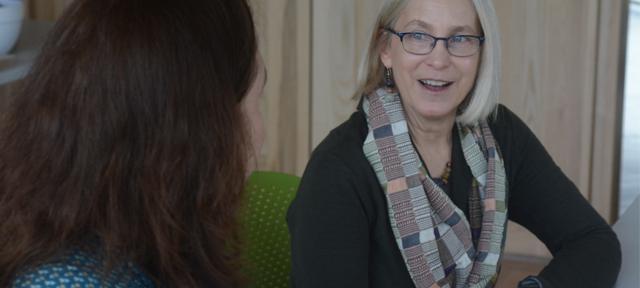 Hampshire alum Barbara Shufro and her husband, David Steuer, have funded an endowment for an ongoing Hampshire course on special education and inclusion, available to students of the Five College Consortium. 
Hampshire first offered the course, Special Education: Learning Differences and the Role of Inclusion, in 2013, as part of its curriculum in Critical Studies of Childhood, Youth, and Learning. The class, to be offered every other year, has filled a deep need for undergraduates studying to be teachers, says program director Melissa Burch. It discusses such topics as inclusive teaching practices, student adaptations, classroom structure, and the impact of current policies, laws, and practices on students who learn "typically" and those who learn "differently."
"Students learning to be teachers have a lot of questions and concerns about supporting K–12 students with differences in learning needs," says Burch. "This course responds to those interests."
Shufro, who is a special-education and disability-rights lawyer, made an initial gift, in 2012, to establish the Inclusion-Education Fund. In addition to the course, that gift has funded internships for Hampshire students concerned with equitable education for youths with disabilities, and an annual conference on the topic.
"I'm passionate about inclusive schools and education, because of my own experience as a mother of a child with special needs and as a lawyer representing families of students with disabilities," says Shufro.
This new gift comes, she says, because she's proud that Hampshire is leading the way in providing access to this field of study by teaching that inclusiveness is beneficial for children. "Teachers are the ones on the front line of the push toward inclusive classrooms," she explains. "This support will help prepare them to make education accessible to all their students."
Shufro adds that this curriculum is valuable not only for future teachers, but also for students across disciplines: "Knowing ways of increasing inclusiveness in any environment is important to carry through your life."
1