Hampshire to Offer 12th Annual 'Super 8 Filmmaking in Paris' Course This Summer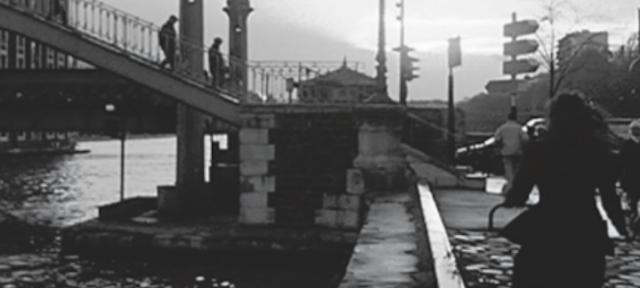 For the 12th year Hampshire College will host students in France this summer for the course "Super 8 Filmmaking in Paris: Geographies of Identity," one of the most successful Global Education Office courses in recent years for Hampshire and Five College students. Scheduled for June 1–21, the course is taught by Professor Emerita of Film and Video Baba Hillman.
The course comprises intensive workshops in cinematography, hand-processing, animation, and editing. It also explores the role of migration and diasporic communities in contemporary film in Paris. Seminars address such topics as changing cinematic representations of the architecture and urban space of Paris and the politics of film funding and distribution in France.

Each participant shoots, edits, and presents a short Super 8 film, and Hillman works closely with all of them during the filmmaking process, advising students on every aspect of their projects. "The course is deeply connected to our Hampshire philosophy and inquiry-based learning," says Hillman. "Each student's film is connected to their studies and interests, and the films range widely in subject and approach. Charlotte Kohlmann's [Smith College '17] film was based on the diary her grandmother kept in Paris during the Nazi occupation; the work of Malik Ford 14F concentrated on hip-hop culture in Paris; Emily Drummer 09F created an essay film, Positif Negatif, that explored film culture and neighborhood cinemas in Paris."

During the course, students participate in studio visits with artists and curators and attend screenings, performances, and exhibits throughout the city. They also work with filmmakers' collectives, such as l'Etna and Collectif Jeune Cinéma. "Filmmakers in l'Etna share costs of equipment and supplies and curate screenings and festivals across the city," says Hillman. "Many of the filmmakers work with Super 8 film because of its unique aesthetic qualities and low cost. The collectives offer a model of the independent filmmaking that's part of the vibrant and politically engaged tradition of alternative cinema in France. Collaborating with these collectives inspires our students to think about ways of creating and supporting their own independent filmmaking communities."
 
The course is deeply connected to our Hampshire philosophy and inquiry-based learning.

Professor Emerita of Film and Video Baba Hillman
The course has had a lasting impact on many Hampshire graduates. Multidisciplinary artist Miatta Kawinzi 07S, winner of the 2018 Barbara Hammer Lesbian Experimental Filmmaking Grant, was a student in the first Paris course, in 2009.
"As a first-generation American of Kenyan and Liberian heritage, I have long navigated multiple cultures and sought to explore the multiplicities of the African Diaspora," says Kawinzi. "During the course, our meetings with filmmakers, artists, and other cultural workers broadened my understanding of the nuances of cultural identity in relation to migration, movement, displacement, hybridity, and cultural exchange. Gaining technical skills in Super 8 filmmaking and simultaneously creating a project that synthesized my thinking gave me a unique and valuable opportunity to think through complex issues in an immediate way," she says.

In 2018, Kawinzi was awarded a six-month artist residency at Cité Internationale des Arts, in Paris, where Hillman had first taught the Hampshire course during her own residency at the Cité. "It was a special moment to share with the group my current research and work in progress, which were directly connected to the work I had started in the course nine years earlier," Kawinzi said, "and to illuminate the connecting threads that continue to unfold."

Eleven years after taking the class, Camilla Flores d'Arcais — now based in Rome — is still working in documentary film, focusing on themes that revolve around migration and human rights. She's currently working on distribution for Iuventa, a film that follows the nongovernmental organization rescue ship of the same name in its mission to save the lives of migrants in the Mediterranean Sea.

"The course was one of the most wonderful experiences of my Division II," says Flores d'Arcais. "I gained confidence in the technical aspects of filmmaking, while the theoretical aspect of the class contributed to my growing interest in immigration, migration, and diaspora, the fundamental themes of my Division III. The critique of my work by my professor and peers widened my ability to critically look at my own work and at that of others."
Zoe Meyer 15F says that each student "took on an independent film project, and each piece was an entirely different approach to the city around us." Students worked closely together to create a community of working artists and thinkers, she says, "challenging and inspiring one another to explore the city in its entirety.
During the course, our meetings with filmmakers, artists, and other cultural workers broadened my understanding of the nuances of cultural identity in relation to migration, movement, displacement, hybridity, and cultural exchange.

Miatta Kawinzi 07S
"For me it was an opportunity to both learn from the experience of traveling and working in a richly multicultural city and to experience life as a working artist," Meyer says. "The program was a fantastic example of Hampshire philosophy at its finest; we challenge ourselves and our community in order to better understand the world around us." 


Meyer says the course inspired her to continue her research and exploration of Parisian landscapes and histories in her Division III film. She spent the first semester of her Division III in Paris, where she shot her film and also worked as an intern with a film collective. She's currently living and working in Rome and beginning an independent film project.
"The impact of the time I spent in Baba's program has clearly opened the door for me and many others to work and create and study around the world, which is a true gift. The world around us can teach us just as much as the classroom," Meyer says. "We learn immensely through the opportunity to immerse ourselves in other perspectives."
This June, students will participate in l'Etna collective's 20th-anniversary celebration, with screenings throughout Paris. They'll also travel to Aveyron and Tarn-et-Garonne, in the southwest of France, to participate in screenings in Saint-Antonin-Noble-Val.
Students may apply for the course here. The course has no language prerequisites; events are presented in both French and English. Financial aid is available.
Hampshire is one of the top US colleges for film, video, and photography, offering a wide range of courses in analog and digital media, as well as installation and performance.
1