Five College Associate Professor of Film/Video Production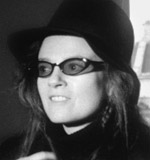 Baba Hillman, Five College associate professor of film and video, grew up in Japan, Venezuela, and Panama. She received a B.A. from Duke University, and an M.F.A. from the University of California, San Diego.

Her films and videos have screened in festivals and museums including Rencontres Paris/Berlin, Anthology Film Archives, MIX, European Media Festival 2000 (Osnabruck), Los Angeles Museum of Contemporary Art, Corcoran Gallery/Washington Project for the Arts, and L.A. Freewaves. Her performance/media work has been presented internationally.

She was director of Teatro Movimento, a multi-media performance group based in Florence, Italy and has worked as a performer and choreographer with Etienne Decroux, Eleanor Antin and Sledgehammer Theatre. She has taught film, video and performance in France, Italy and Canada.

Her films include "Passage du Désir," a feature length experimental film shot in Paris and Madrid. The film explores desire and memory in the context of the experience of the exile; one whose relationship to history, place, language and sexuality is continually thrown into question. She is currently working on "Zones de Non-Droit," a film about five sisters living in La Rose des Vents, a banlieue housing project in the Seine-Saint Denis region north of Paris.

Hillman has received grants and awards for her work from the French Ministry of Culture, the Marion and Jasper Whiting Foundation, the California Arts Council, the Maryland Arts Council and the Italian city governments of Florence, Lecce, and Certaldo.
Professor Hillman will be on sabbatical leave for spring 2016.
Custom Ads
+

–

Performance and Directing for Film, Video, and Installation
+

–

Cinematography and the City: The Politics of Landscape and the Body
+

–

Division III Projects Class: Film, Video, Photography and Interdisciplinary Media