Hampshire Plans to be First U.S. Residential College Supplying 100 Percent of Electricity from On-Site Solar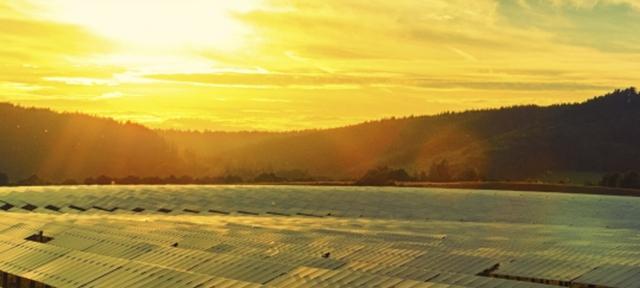 Hampshire College's goal to power its campus with 100 percent renewably generated electricity took a major step forward this month. The College plans to construct large-scale ground-mount solar power systems on campus, to be installed and maintained by SolarCity following an Impact Study to evaluate the project, conducted through Eversource, the local electric utility. The systems will be constructed on two open-land areas totaling approximately 19 acres of the 840-acre campus.
An impact study is a normal step in the process of going solar. The study should take 70 working days to complete according to the interconnect tariff, says Hampshire Project Manager Todd Holland. The study will look at how the arrays will function in the community electrical-distribution systems, and determine whether any upgrades are needed for safe, stable, and reliable operations. The College and partner SolarCity would pay the costs if any upgrades are necessary. The exact size and output of the system will be decided based on the study's findings.
Hampshire is hoping the construction of its solar power systems will begin in the spring. 
Once the systems are complete, Hampshire plans to be the first US residential college able to provide 100 percent of its electricity needs from on-site renewable sources. The College's solar power system and its entire renewable-energy plan are part of its overarching sustainability effort to make operations 100 percent climate neutral. Hampshire is a signatory to the American College and University Presidents' Climate Commitment, which requires the College to develop a Climate Action Plan, incorporating a strategy to achieve carbon neutrality.
Hampshire expects the savings from the power purchase agreement to be substantial, and intends to earmark some of these savings for energy-efficiency projects and academic research.
The solar plan is one of two globally significant sustainability projects at Hampshire College. The second is the construction of the R. W. Kern Center, its 17,000-square-foot campus center, built to achieve full Living Building Certification, which requires net-zero energy, waste, and water systems. The Living Building Challenge also requires that construction materials be sustainable and from local sources, where available locally.
To date only eight buildings in the world have been fully certified by the Living Building Challenge, the most rigorous performance standard for sustainable building design and construction.
The Kern Center is Hampshire's first construction of a stand-alone building in more than 20 years. Once completed, it will be self-sustaining: that is, it will generate its own energy, capture its own water, and process its own waste. Its construction reached a milestone this month as builders enclosed it and began installing interior mechanical systems—electrical, plumbing, and heating—toward an expected opening in March 2016.
In November, roofing and windows will be installed, so builders can continue working inside through the winter. In December, photovoltaic cells will be installed on the roof; these will supply all the building's power.
The Kern Center, designed by the Cambridge-based firm Bruner/Cott and built by Wright Builders, a local construction firm owned by a Hampshire graduate, exemplifies the College's commitment to the highest level of environmental sustainability and to creating hands-on learning opportunities for its students. Hampshire students, working with the architects, helped design the building and now are learning about, and in some cases helping to develop, the center's unique systems through classes in microbiology, applied mathematics, and computer science, among other disciplines.
As part of the evaluation process and to provide educational opportunities, Hampshire is creating a digital dashboard, which will display real-time data on the Kern Center's energy production, water and energy use, waste production, and other key elements. The dashboard will be publicly accessible online and visible in the building after opening, to be employed by users and occupants to "drive" the systems to achieve zero impact.
Hampshire's sustainability initiative, launched in 2011, focuses on achieving four transformations at the College: in its food systems, campus operations, curriculum, and culture. A generous gift from Hampshire alum Gary Hirshberg, cofounder and chairman of Stonyfield Farm, and his wife, Meg, propelled the initiative in conjunction with the appointment of President Jonathan Lash in 2011. Funding from the Lydia B. Stokes, the Henry P. Kendall, and the Vervane Foundations and the National Science Foundation further boosted the effort.
The College has also raised $7.4 million in donations toward the $9 million goal for gifts to the Kern Center. Funding assistance for the building's solar panel system was provided by the Tern Foundation's TernSOLAR Challenge Grant Program and matched by an anonymous foundation in partnership with the Kern Center Solar Challenge initiative. Tern Foundation works collaboratively with qualifying nonprofits to help advance energy-efficient design and building practices in conjunction with solar installations in Massachusetts.
Jonathan Lash, who became the College's sixth president in April 2012, is a widely recognized leader in higher education and environmental sustainability. He chaired President Bill Clinton's Council on Sustainable Development, served as president of the World Resources Institute, and was Vermont's Environmental Secretary and Commissioner.
References for On-Site Renewable Energy in Higher Education
Association for the Advancement of Sustainability in Education
Top Ten Solar Photovoltaic Installations Lists

US Environmental Protection Agency On-Site Renewables
1