Hampshire Student To Attend U.N. Climate Talks in Morocco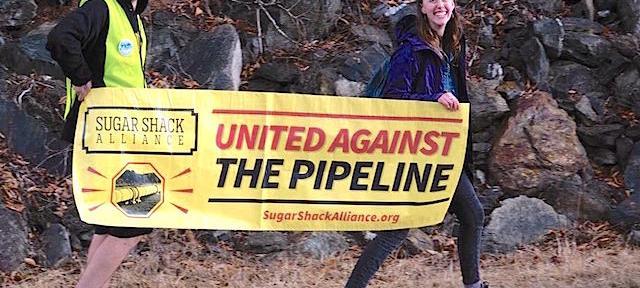 Dineen O'Rourke, a Division III student studying climate change and sociology, is one of 13 American youth climate-justice leaders chosen by national nonprofit SustainUS to take part in the COP22 (Conference of the Parties) United Nations negotiations in Marrakech. To be held November 7–18, these talks come one year after a historic agreement was signed at COP21, in Paris. Many questions remain about how significant goals will be reached.
O'Rourke 13F was selected by the youth-led organization SustainUS, which advances justice and sustainability by empowering young people to engage in advocacy. Her involvement in COP22 is central to her undergraduate studies at Hampshire and to the capstone thesis project she's leading this year, which she has titled "Coming of Age in the Time of Climate Change: The Importance of Youth Activism in the Climate Justice Movement."
Her attendance at the summit is also an extension of O'Rourke's dedication to the environment. Since she arrived at Hampshire, she has been active in the successful movement against Kinder Morgan's Northeast Energy Direct pipeline and is now working with the Sugar Shack Alliance to resist another fracked gas pipeline: the Connecticut Expansion, in southwestern Massachusetts. She is an organizer with Climate Action Now, a grassroots, volunteer group working to expand the climate movement in the Connecticut River Valley region.
"My generation has never lived in a world not drastically defined by climate change," says O'Rourke, who is from eastern Long Island, N.Y. "We have an obligation to amplify climate-justice stories that need to be heard, while demanding action."
At the negotiations, O'Rourke and her fellow SustainUS delegates (see http://sustainus.org/climate/cop22/) will use traditional and social media, creative protest, and lobbying to highlight the disproportionate effect climate change will have on youth, indigenous peoples, and those on the frontline of fossil-fuel extraction — all groups that have been largely excluded from the international climate process, she says.
COP is the supreme decision-making body of the United Nations Framework Convention on Climate Change, opened for signature in 1992 during the Earth Summit in Rio de Janeiro and later entered into force in 1994. Through this instrument, the United Nations has equipped itself with an action framework to fight global warming

The need for immediate action could not be greater, O'Rourke says, citing the looming presidential election and data showing dramatic warming of the planet. Each of the first six months of 2016 set a record as the warmest respective month globally in the modern temperature record, which dates to 1880, according to scientists at NASA's Goddard Institute for Space Studies (GISS) in New York. The six-month period from January to June this year was also the planet's warmest half-year on record.
"It's clear that the time is now for world leaders to address climate change on a scale commensurate with the urgency and magnitude of the problem," O'Rourke says. "My goal is ultimately to elevate and empower the voices of youth."
O'Rourke says for her Division III capstone project she's writing this year, leading to her expected graduation in May, she seeks to answer the questions, "what is the role of young people in the climate justice movement, and why is our role uniquely critical?" She will approach this by taking action at the U.N climate talks alongside youth from around the world, collecting stories from those she meets, and holding workshops both in Morocco and back at Hampshire. The faculty on her Div III committee are Tim Zimmerman, visiting assistant professor of cognition and education in the School of Cognitive Science, and Christina Cianfrani, associate professor of hydrology in the School of Natural Science.
"Through this combination of international and local youth organizing, I am seeing a variety of perspectives of what it means to be a young person in the time of climate change, how we can use our position as youth to create lasting change, and how we can sustain ourselves in the process," she says.
O'Rourke has seen firsthand how dedicated grassroots organizing can move society in the direction of a more stable climate. "Kinder Morgan withdrew its application for the Northeast Energy Direct — a pipeline that would have carried fracked gas through Massachusetts, New Hampshire, and New York State and released methane, the most potent greenhouse gas — after we pressured them from all angles for two years," she says. "This is only the beginning of showing the world that building new fossil-fuel infrastructure is the opposite direction of where we must be heading."
Representatives from 194 countries will meet in Marrakech to continue negotiations and attempt to build an implementation framework for the Paris Agreement. You can track their work online by following #COP22 or through the summit's website, http://www.cop22.ma/en.
Dineen O'Rourke (right) marches with fellow Hampshire student Gabriel Shapiro on the "Taking Steps to a Renewable Future" walk that they organized last spring with the Sugar Shack Alliance.
1