Hampshire Student Nancy Constanza F20 Folds Together Her Passions: Entrepreneurship, Art, and Community Work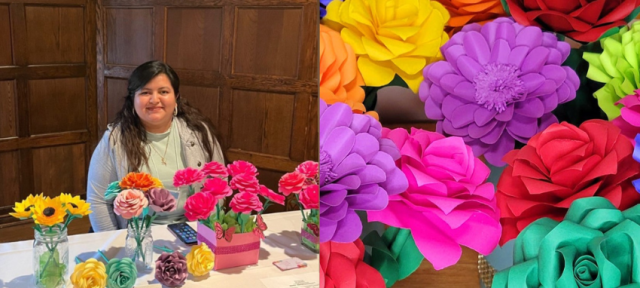 The Div III student started her own business, Blooming Yas, in her first year, selling handmade, brightly colored papercrafts, such as flowers, cards, and garlands, inspired by her love of art and decor. Now, as she nears graduation, she's building toward a final project that will be the culmination of both her creative and her entrepreneurial endeavors.
Nancy Constanza F20, originally from Guatemala, is a recipient of the Undocumented Student Scholarship fund, which the College established in 2012. We talked to her about how her experience here evolved as she explored a variety of areas of study to ultimately find her calling.
What drew you to Hampshire?
 
I didn't know what to expect when I came to Hampshire in the fall of 2020, amid the pandemic. What intrigued me the most was the opportunity to take classes at five different colleges. The prospect of traveling between the schools and interacting with people from various backgrounds piqued my interest. That gave me the freedom to explore new ideas and courses. In case Hampshire didn't offer a particular class, I could look to the other schools and take the class without incurring any extra expenses.
What did you think you were going to study when you came here?
 
I've always been fascinated by many fields of study, and it was difficult for me to choose just one. I found myself particularly drawn to chemistry after taking an introductory course in high school. In addition, I considered pursuing a career in law, especially to help BIPOC immigrant families navigate the legal system. As a first-generation college student, I'm familiar with the challenges that immigrants face. I also considered a career in business, with a focus on accounting or marketing.
My interests have certainly changed since I began my studies, but not because I lost interest in my previous pursuits. Rather, I became more adventurous and open-minded as I sampled a broader range of subjects. Being enrolled at Hampshire gave me the freedom to explore any class I wanted. I took courses on creative writing and entrepreneurship, as well as architecture classes, which taught me that precision measurement was not my strong suit. In my first semester, I even took a dance class just for fun!
As I delved deeper into my studies, I found my calling in creative writing and entrepreneurship.
Tell us about your business and recent work.
 
I founded Blooming Yas in the second semester of my first year, which taught me essential skills like planning and networking. Balancing Blooming Yas with my classes and homework was a challenge, but it was worth it. It became a practical outlet where I could apply what I learned in the classroom, particularly with regard to writing through drafting emails, creating captions for Instagram, and reaching out to people.
Later, I took part in the Semester in the City program at the College for Social Innovation. There, I worked as a marketing intern at East Boston Social Centers, which I repeated the following summer. The internship gave me experience in the field and enabled me to discover that marketing for nonprofits could be a fulfilling career path.
Are there any faculty members or College resources you've found to be particularly supportive or helpful?
 
Five College Associate Professor of Art and Technology John Slepian is my Div III committee chair and Assistant Dean of Advising Karina Fernandez is my member. The Writing Center is an incredible resource for English learners like myself. Writing with confidence is a challenge, but their support has been a great relief.
Can you tell us about your Div III project?
 
I'll focus on three areas I'm passionate about: entrepreneurship/business, art, and community work. To gain more insight into how I can make a difference, I plan to intern with local organizations such as The Chica Project and EforAll.
I also plan to do an exhibition in the Hampshire College Art Gallery, showcasing my own experience as an undocumented entrepreneur. I will display the evolution of my products over the past three years, highlighting the challenges and triumphs I've faced. I'll also use social media and a website to promote my business and community work, allowing me to expand my network and connect with others who share my passion for making a difference.