For His Div III, Armon Walker 17F Leads a Collaborative Game Design Team to Create the Iaijutsu Project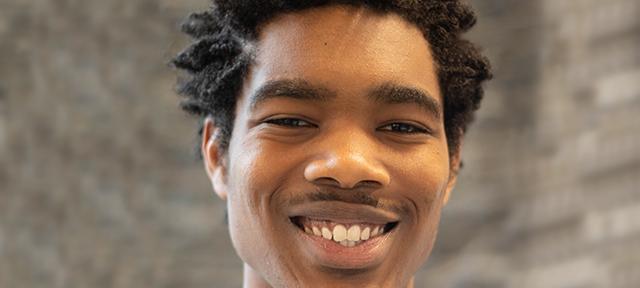 The game, tentatively titled the Iaijutsu Project, was recently released on itchi.io for playtesting.
For Armon Walker 17F's Div III, he worked as game producer and project manager for an interdisciplinary team of five creating a 2D action-platformer game (a video game genre where characters climb or jump from platform to platform). The game, tentatively titled the Iaijutsu Project, was recently released on itchi.io for playtesting.
We sat down [virtually] with Walker to talk about why he chose Hampshire, his favorite facets of game design, and the work he hopes to do after he rings the Div-Free bell.
What first brought you to Hampshire?
I am from St. Louis, Missouri, and I've known I wanted to study game design since I was ten. I'd researched the field when I was applying to colleges and found that Hampshire was one of the top schools for that area of study, but unlike some of the other schools, it took a really interdisciplinary route with it, so I applied. I knew for sure Hampshire was the right school for me when I got back a letter from the admissions office that very specifically mentioned something I had said in my admissions materials. I'd talked about a field trip I went on in high school to a rehabilitation facility that used video games to help their patients. They had this foot pedal that would make Mario jump on the screen, and I wrote about how interesting it was to see games utilized that way. When they mentioned that example back in my letter and showed real interest in my ideas, I knew this was the place for me.
Game development covers a wide variety of skills. Are there particular facets of this field that you are most interested in?
I have a really big interest in world building, and I definitely gravitate towards that. I took several classes at Hampshire around that. If I had to pick one concentration, it would likely be narrative design. Production is another area I have lots of interest and experience in, and I've been a project manager on a couple of games now, ranging from managing a team of five to a team of thirty. Really, I love all parts of game development.
Tell us a little bit about your Div III project.
The project itself is a 2D action-platformer that merges cyberpunk aesthetics with Samurai culture, and it has an emphasis on mobility, lethality, and precision. For the project, I'm working with five other individuals, and I am acting as the project manager. It is a collaborative Div III with Isaac Taylor 17F, who came up with the original concept. Div II student Tom Nicholson 18F is our programmer, and Div II student Jack Deford 18F is an artist. Then we have Jeffrey Taylor, from Ithaca College, as our sound designer, and Phil Snowbarger, who I worked with at a different internship and brought on board with us, as another artist.
We recently completed the beta phase and are now in the launch phase, where we are cleaning up the code, squashing any bugs, and making it as smooth as possible. And we've just started playtesting it on itchi.io.
My committee is Hampshire alum and animator William M. Colón 05F [Five College visiting professor of animation], and Professor Susana Loza [associate professor of critical race, gender, and media studies]. They've been so supportive and great to work with on this.
What was it like to be a project manager on these types of large collaborative projects?
It's definitely been difficult and exciting all at the same time. Each project requires different skill sets and types of processes. I did a game project last year called Cosmia: Cosmic Solitaire, where I was lead producer, and that was my first really big production role. There were 33 students total working on that game. People wise, it was alive. And I had to figure out how to talk to everyone, how to manage a meeting, and even what a producer does. So, that was really tricky and fun and a huge learning experience. But seeing how smoothly this Div III collaboration went, I can see how much I have learned and grown as a project manager already. And I'm really proud of all the work I've done collaboratively here.
What's next for you after graduation?
For now, we are still working on play-testing our game, and even though the Div III portion is over, we're very invested in continuing as long as we can. I'm also starting to apply for game design positions. I enjoy strong narratives, and I love challenging games. I really just want to do work I'm proud of and make games that people enjoy playing the way I enjoy some of my favorite games like Katana Zero, the Kingdom Hearts series, Ratchet and Clank, or the games made by companies like Square Enix, Insomniac Studios, etc. I hope I can continue to do that, either at an indie studio or a big AAA firm.
Any thoughts for prospective students on why Hampshire?
I'm so thankful for the way Hampshire operates because I hated high school. I survived it, thankfully, and here the faculty talk to you, they listen and care, and they want to help. I appreciate that about them so much. I have felt that love and support throughout all my years here. That's a really, really big deal for me. I will always love Hampshire for that, and I don't know that I would have had that experience anywhere else but here.