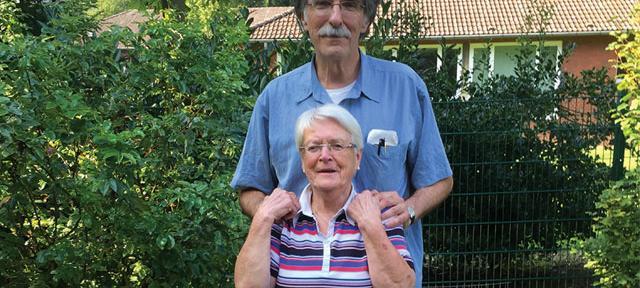 During a visit to Poland in 2009 — I had been invited to give a retrospective of my films at the WRO Art Center in Wroclaw — I felt an unaccountable unease while riding the Communist-era trains. I thought of my family's 1950 relocation from Eastern Europe. The decision to leave had to have been difficult for my parents. They were Polish Jews who survived Auschwitz but lost their previous spouses and children there.
They met and married after the war, hoping to build a new life in the border city of Walbrzych. But they couldn't bear the lingering legacy of anti-Semitism, tried unsuccessfully to emigrate to America, and wound up in the newly formed state of Israel. I was just three years old when we moved.
Riding those trains, I also became aware of the difficulty of such a long journey and of the looming, haunting presence of the German teenage girl who had taken care of me while my parents worked. I had a single black-and-white photograph taken of the two of us standing in a meadow outside Walbrzych in 1950. All I knew was her first name. Ilse.
In 2011, a major change in my personal life brought up feelings of abandonment that were somehow rooted in the emigration from Poland to Israel and also in the loss of that intimate relationship I'd had with a caregiver I couldn't even remember. I decided to try and find Ilse and make a film about my search. Based on what little I had  to go on, I never imagined that I'd find her.
Last summer, after months of fruitless leads, an unlikely chain of connections led to a major feature about my film project in the  Gazeta Wyborcza, Poland's leading daily, coupled with a mention of my project in a monthly newsletter for former residents of Walbrzych now living in Germany. Ilse Gerda Kaiser, 82, saw the newsletter  and immediately recognized herself and me. In a few weeks I was on a Lufthansa flight to Ibbenbüren, Germany.
Over five days together, Ilse filled  in gaps about my early life. I learned that she looked after me as much as twelve hours a day, six days a week, for two years while my parents ran a grocery store. I learned that her father, a coal miner, had been forced, not asked, to stay in Walbrzych because war-ravaged Poland desperately needed coal. I wasn't expecting the epiphany of reunion, but the new connections I sensed felt profound. And of course I had more questions for which she had no answers.
The film, when it's completed, will expand the tapestry I've been trying to weave through all of my work: between the present and the past, between self and family, between a desire to know and the limits of what can be revealed.
Reprinted from the Summer 2016 issue of Hampshire's Non Satis Scire magazine.