Introducing Visiting Assistant Professor of Film and Video Magdalena Bermudez 10F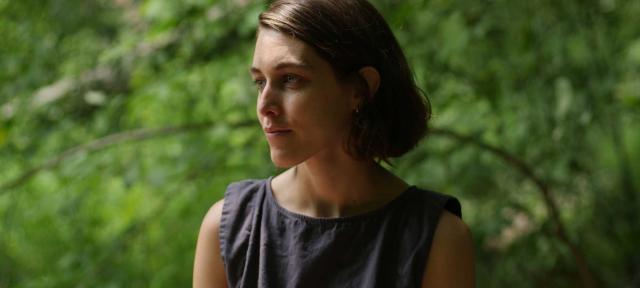 Hampshire College is pleased to welcome a substantial cohort of new professors to campus to support its growing enrollment and fall class.
Among them is Hampshire alum Magdalena Bermudez 10F, who is interested in tricky pictures — images that stretch our perceptual capacities, require us to rethink our dimensional assumptions, and encounter familiar relations anew. Her practice examines the entangled relations between people and technologies, prodding at the slippery boundaries between human and informational bodies through essayistic film and video works.
Bermudez received her B.A. from Hampshire College and her M.F.A. in cinematic arts from the University of Wisconsin-Milwaukee. Most recently she taught video production and contextual film courses in the University of Wisconsin-Milwaukee's film, video, animation, and new genres program.
What are you passionate about when it comes to this work?
We're inundated by never-ending streams of media, and it's vital for students to critically reflect on the ways systems of power are inscribed formally in the media they encounter. I'm dedicated to creating courses in which students cultivate their unique cinematic vision and critically engage with the mechanisms behind our media industry toward the development of their own media ethic. 
My Intro to Nonfiction Moving-Images Practices class examines the ways filmmakers use formal tools such as voice-over and interviews to invoke authority and thinks about ways to subvert that dynamic and create work that demands active involvement from viewers. My Subjective Archives class considers collection as an integral act of the creative process. We will expand our definitions of research, straying beyond the institutions of libraries and archives, examining the politics of what is preserved and considering the manifold ways our work is informed by and in conversation with other media, as students work toward the completion of their own creative projects.
Have you been in any other professions that had an impact on how you teach and learn?
I've worked on commercial films in a variety of capacities and for alternative educational organizations, both of which have fortified my commitment to critical media education. Working in commercial production and postproduction has led me to interrogate the ways media are manufactured to uphold systems of power, and deepened my devotion to fostering alternative image-making communities. 
My experience working for media literacy and alternative education organizations has inspired my passion for student-focused, collaborative learning environments, in which students shape their education through project-based learning. I'm excited to continue developing these pedagogical and artistic frameworks in collaboration with Hampshire's experimental education model.
Tell us about your work.
My work has screened internationally at various film festivals and art spaces, among them the Ann Arbor Film Festival, Antimatter [Media Art], Athens International Film + Video Festival, BIDEODROMO International Experimental Film and Video Festival, Iowa City International Documentary Film Festival, Milwaukee Underground Film Festival, Black Maria Film Festival, West Virginia Mountaineer Short Film Festival, Tranås at the Fringe, and the Festival of (In)appropriation.
What are you looking forward to at Hampshire?
I'm excited to work with a student body who are eager to ask urgent questions about media and take creative and political risks as they cultivate their creative practices. Through my classes and work in the community, I look forward to learning from the range of faculty, staff, and students at Hampshire, and to tackling the myriad of pressing issues of this moment.
How do you hope to engage with our new curricular model?
I'm fascinated by Hampshire's Learning Collaboratives, especially the Media and Technology LC initiative, which coincides directly with my research and creative work. My current research centers on synthetic media, delving into questions of agency and autonomy at a time when more and more images are made by algorithms. As big technology companies recast images as infrastructure for their emerging virtual empires, my work questions the politics of the new era of surveillance capitalism and examines the peculiar defects and perplexing repercussions of systems built from stolen pictures. I'm interested in working through these complex questions inside the classroom and in the larger community, reckoning with the implications of these new modes of image-making and developing strategies for communities to gain more autonomy over our media ecologies.