Karen Marshall's Exhibit 'Between Girls: A Passage to Womanhood 1985-2015' on View at Hampshire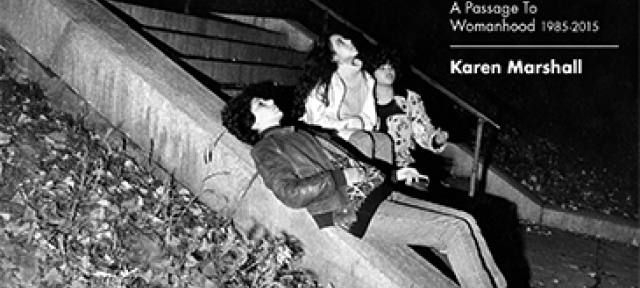 Karen Marshall 75F's Between Girls: A Passage to Womanhood 1985–2015, a three-decade-long documentary study following a group of middle-class New York City girls from the ages of 16 to 46, runs through November 17 in the Harold F. Johnson Library art gallery at Hampshire College.
Marshall began photographing the teenagers in 1985 after being introduced to Molly Brover, a junior at the Bronx High School of Science. After Brover and her friends, who lived on Manhattan's Upper West Side, agreed that Marshall could photograph them, she began spending time with the group and documenting the mundane rituals of their friendship.

"I believe that there is a language that women share with each other that is really hard to articulate," says Marshall, who was in her mid-20s at the time. "My intent was to look at the emotional bonding that happens between girls at age 16 and document the emblematic relationships that often develop at this time in their lives." 

Ten months later, Molly was hit by a car and killed while on vacation in Cape Cod.  Marshall was devastated, but resolved to keep the project going.

"I realized that Molly would remain 17, and the rest of them would become women," she says. "It is the main reason that inspired me to continue to document the girls in various ways over the years to come, which has evolved into a 30-year meditation on friendship."    

Between Girls began with 35mm black and white photographs of the girls at 16 and 17.  It expanded with audio interviews recorded in 1990, a three-screen video of interviews shot in 2008 as they approached 40 years old, and a collection of small books and ephemera that reveal the details of a three-decade archive. Segments of the work, a sponsored project of the New York Foundation for the Arts, have been shown at various international venues including the OK Centrum for Contemporary Art in Linz, Austria in 2008, but the project in its entirety will be exhibited in full for the first time at Hampshire College.

Hampshire president Jonathan Lash welcomed Marshall at a reception on Friday, October 23. The opening of Between Girls was among the highlights of the college's Family and Friends weekend, October 23-25.  The exhibit runs through Tuesday, November 17. Gallery hours are Monday through Friday 10:30 a.m. to 4:30 p.m. and Sundays 2:00 to 5:00 p.m.

Marshall has been on the faculty at The International Center of Photography in New York City for the past 20 years where she is a core seminar teacher in the Documentary Photography and Photojournalism One-Year Program. During her tenure she has curated two shows at ICP's Rita K. Hillman Gallery of Education including "Stories in the Social Landscape," works of 83 faculty members, in 2014.
Recent Press
1