Library Opens New Academic-Services Facility for Students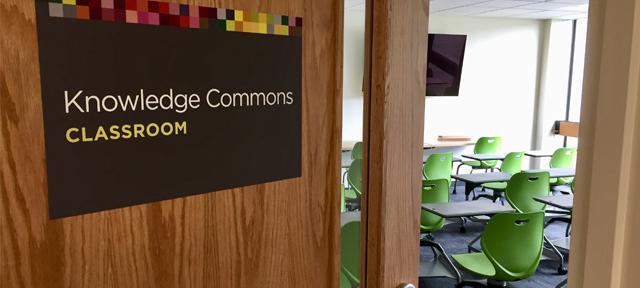 Hampshire College has a new academic-services facility in the Harold F. Johnson Library, a large, recently renovated space on the first floor that centralizes and expands programs previously dispersed around the 800-acre campus. The facility's ribbon cutting and launch party are Friday, October 13 at noon.
The following services are now consolidated into the Knowledge Commons:
Writing Center
Transformative Speaking Program
Library Research
Quantitative Resource Center
Instructional Technology
Art Gallery student-exhibition support
Media labs
Center for Teaching and Learning
Holistic Learning Program
The Knowledge Commons concept is funded by a $1.2 million grant from the Andrew W. Mellon Foundation awarded in December, 2015. A $65,000 planning grant was awarded previously in 2013.
The plan to integrate the College's full range of academic services informed the design of the Knowledge Commons. Throughout spring and summer 2017, Hampshire undertook renovations of the first-floor space. The facility contains:
a classroom that seats 20, for workshops and classes
three private-consultation rooms
one group-consultation room
movable furniture
lounge seating
white boards
computer monitors and a QRC computer station
The hub is designed to support the full trajectory of student work — conceptualizing, questioning, researching, creating, and producing. For many students, it promises to transform the process of their academic work from a largely solitary endeavor into one that is more visible and collaborative.
The goals of the Knowledge Commons include to:
revitalize a campus center and centralize academic resources
provide tools for student success
bring together academic programs, services, and technologies
create student-centered spaces, resources, and services
facilitate collaboration among students, faculty, and staff
Housing the new facility in the library was inspired in part by Hampshire's founders' vision — developed some 50 years ago — for the library to be the heart of the College.
Alumni Fellows
The Knowledge Commons is staffed by a team of alumni fellows, some full time and others part time, who are coordinated and supported by Alana Kumbier, associate librarian for the Knowledge Commons and the humanities. The alumni fellows underwent more than a month of training and planning this summer, and have already scheduled drop-in hours.
The fellows are:
Alexis Reed (Media)
Dykee Gorell (Library Research)
Namrata Jacob (Instructional Technology)
Charlotte Hawkins (Art Gallery)
Cassie Fancher (Writing)
Sasha Conley (Holistic Learning Program)
Audrey Block (Quantitative Resource)
Charlie Carey (Center for Teaching and Learning)
"At Hampshire, students curate their education," says one of the fellows. "Our goal in the Knowledge Commons is for students to have more agency in curating their resources, and to help them do more than survive. We want to help them thrive here."
Centralized Hub
During the initial planning, a 15-member steering committee, chaired by Library Director Jennifer Gunter King and consisting of faculty, staff, and students, developed a comprehensive inventory of the academic-support services across the College.
After conducting extensive research, analysis, interviews, and focus groups, the committee identified the following priorities:
Bring the services together to reside alongside the research librarians and instructional technology resources
Create new workspaces that are open, collaborative, flexible, and rich in technological tools
Strengthen and expand "maker-space" labs
Enhance Hampshire's peer-mentoring program by strengthening training, extending it across the curriculum, and significantly expanding student involvement
Initial efforts to centralize resources showed promise. In 2014 the Writing Center, then located on the periphery of the campus, began offering walk-in consultations by alumni fellows at the library. Student utilization jumped from approximately 20 consultations per semester to 606; 185 students sought assistance in fall 2016. Centrality and visibility were driving forces behind this increase.
To plan for the launch of the Knowledge Commons, library staff and fellows also:
produced a slate of resource documentation, both online and in print
made significant advances to media-technology services by adding new and updated capabilities for 3-D printing and scanning, for example; 3-D-motion capture and design; media production; and animation
planned for improved marketing of services
For more information, please visit the Knowledge Commons website.
1