Hampshire Wins International Campus Sustainability Achievement Award for R.W. Kern Center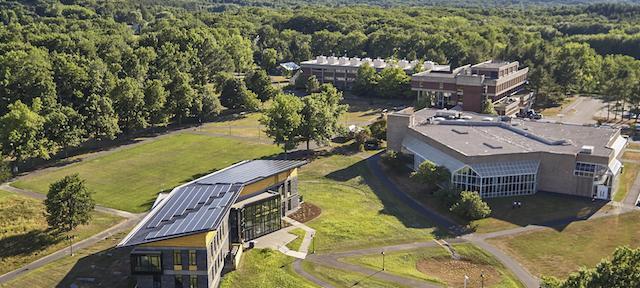 The Association for the Advancement of Sustainability in Higher Education (AASHE) today announced Hampshire College has won a 2018 Campus Sustainability Achievement Award, recognizing the R.W. Kern Center, the 17th Living Certified Building in the world, as an outstanding achievement toward sustainability in higher education.
This year, AASHE received more than 300 entries that resulted in 11 winners, with three receiving Achievement Awards: Hampshire, Emory University in Georgia, and Bow Valley College in Alberta, Canada. AASHE will present the awards to Hampshire and all winners on Oct. 2 at its annual AASHE Conference & Expo, in Pittsburgh, Pennsylvania. AASHE bestows its prestigious awards on institutions and individuals internationally that are helping to lead higher education to a sustainable future.
Opened in 2016, the R.W. Kern Center is a multi-purpose Living Building that generates its own energy, captures and treats its own water, and processes and recycles its waste. In April, Hampshire College and design firm Bruner/Cott & Associates announced that the Kern Center had been certified as a Living Building by the International Living Future Institute (ILFI), making it only the 17th Living Building and the largest Living Certified higher-education project worldwide.
ILFI's Living Building certification is the most advanced green-building standard in the world, granted by the International Living Future Institute.
In its construction, architects from Bruner/Cott partnered with Wright Builders Inc. and its founder Jonathan Wright, a Hampshire alumnus, who served as construction manager for the project. The building's $10.4 million cost, including $7.4 million in construction, was fully funded by donations from more than 100 donors, led by the Kern family and Hampshire alumnus William "Bill" Kern. This year, Hampshire hired its first Kern Center Director, Sara Draper, to advance the building's mission as an educational laboratory for sustainable design and operation.
AASHE maintains an online library containing hundreds of detailed case studies on a wide variety of higher education sustainability initiatives, including an extensive case study of the R.W. Kern Center.
Among its other winners, AASHE's 2018 Lifetime Achievement Award Winner is Dr. Tony Cortese, Principal at Intentional Endowments Network, of which Hampshire College is a founding member. The organization supports mission-driven tax-exempt organizations in aligning their endowment investment practices with their mission, values, and sustainability goals.
Student Breanna Parker at Hampshire's consortium partner Smith College won a Campus Sustainability Research Award for "Designing a Proxy Carbon Price Strategy for Smith College," an undergraduate thesis that identified and analyzed strategies to incorporate the proxy carbon price into the institution's financial decisions. Read about all of this year's winners here.
The leading association for the advancement of sustainability in higher ed, with members in 20 countries, AASHE presents Campus Sustainability Achievement Awards to higher education institutions for successful implementation of projects that significantly advance sustainability.
"The 2018 award winners demonstrate an inspiring passion for solving some of the world's most complex challenges. They are truly pioneering the campus sustainability movement," said AASHE Executive Director Meghan Fay Zahniser.
In May, Hampshire earned a STARS Gold rating from AASHE, recognizing the College's sustainability achievements across academics, operations, leadership, and more. Only some 135 colleges and universities worldwide have earned a Gold or Platinum rating, out of more than 800 participants in 30 countries. The STARS tool is the most widely recognized framework for reporting sustainability performance in higher ed and the basis for the annual Sierra Magazine Cool School rankings. Hampshire placed #39 in the 2018 Cool School rankings, up from #105 in 2017.
Since 2011, Hampshire has been focused on transforming its operations, curriculum, food systems, and culture to achieve holistic campus sustainability. Building on its decades-long practice of environmental science, studies, and stewardship, the College has been steadily achieving its sustainability goals.
1