Hampshire College Reimagines Campus Safety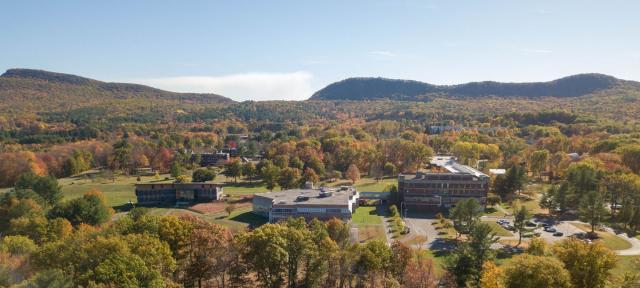 Campus Safety and Security has undergone a transformation and is now called Campus Safety and Wellbeing. Past iterations were based on traditional models of community policing and law enforcement, which didn't address the needs of our community. Today's model is based on community response and harm reduction.
Soon after assuming the role of vice president for Student Affairs and dean of students in the summer of 2020, Zauyah Waite conducted several social activities and offered open office hours to connect with students. During nearly every interaction, students expressed the need to review and change how Campus Safety and Security operated. Driven by students' feedback and empowered by President Wingenbach's support and Hampshire's unconventional approach to solving problems, Student Affairs was able to build an innovative model of operation to meet the campus's needs.
Utilizing research and information from an approach called the Community Responder Model, a method that helps reduce over-reliance on police, as well as feedback from a student survey, Student Affairs set out to evaluate the Campus Safety and Security department. During the fall 2021 semester, the Community Care Initiative (CCI) was formed. The CCI comprised four subcommittees—Anti-Racism, Mental Health and Wellness, Student Leadership, and Substance Use—all of which were made up of students, staff, and faculty. They found that although the department receives many requests for assistance in ways that require an emergency response, it often gets requests that are better suited for response by staff with a background in community organizing, social work, or counseling. In an effort to resolve more issues internally, without involving the justice system or police, Student Affairs and CCI devised a plan to shift the department's approach to one more rooted in community response and support.
The transformation included a critical change to the office's name. The decision to remove the word Security from the department's title and replace it with Wellbeing, "was a way to visually and verbally distance ourselves from the concept of 'policing' and all of the baggage and preconceptions people have," said Senior Director of Student Affairs Matt Lewis. "On a deeper level, integrating the concept of well-being into the department more accurately captures how our staff interact with the Hampshire community and illustrates what we want our goal to be, which is a thriving and vibrant community where people feel supported as they navigate the demands of everyday life."
All staff job descriptions were reworked and centered on community development, support, and advocacy. Two new positions were added: the campus safety assistant and the health and well-being advocate, both of which are cross-trained in order to best support the campus community. 
 The primary responsibility of the campus safety assistant is to tackle some of the basic problems the department encounters, ranging from helping to change a flat tire, to first-responder calls, to responding to a fire alarm. The health and well-being advocate can be looked to in terms of providing support for students who are experiencing various mental-health concerns, require follow-up, or need to be connected with resources either on campus and locally. 
These changes have culminated in a harm-reduction approach that seeks to destigmatize issues, such as substance use and mental health, that are more harmful to individuals and the community as a whole when not discussed openly. 
"We understand that our communities are going to experiment," says Lewis, "and will participate in various ways of being, and that for us to be most supportive, we need to provide as much information to them as possible so they can be equipped to make the best decisions for themselves; we'll still be able to provide the safety and emergency services necessary when their decisions aren't in their own best interests." 
Heading up the department under the umbrella of Student Affairs is Lisa Herod, who joins the College as the inaugural director of Campus Safety and Wellbeing. The department "understands the concerns loved ones have for their students while they're away from home," she says. "Our goal is to build a partnership that aids the development of initiatives that help to improve student safety and wellness." 
"When students see us as advocates rather than enforcers of policies," says Lewis, "we create a much more mutually beneficial relationship in which we're better informed about what's happening on campus and our students know they have someone who will help when they need it most."
"The transformation of the campus safety operation is centered on students' needs, which are evolving and fluid, just like the social, health, financial, and environmental crises that affect students," Waite says. "As we progress, our team pledges to remain open minded, enjoy learning, and be ready to adapt and evolve the department accordingly to successfully support Hampshire students."
 
Learn more about Campus Safety and Wellbeing.
1