March 29, 2019: Housing and Dining 2019-20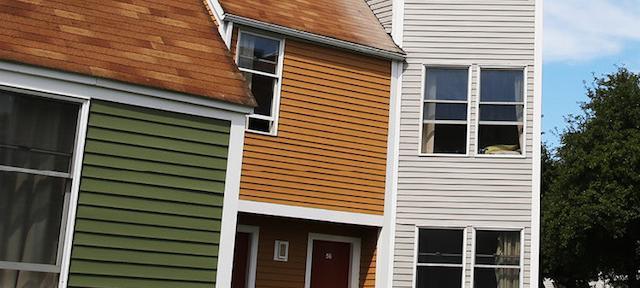 A letter from Dean of Students Gloria Lopez about changes to housing and dining services for 2019-20
Dear Hampshire Students,
We're writing to share updates on housing and dining for next year. For the 2019-2020 school year, all on-campus students will be guaranteed a mod apartment. While we don't have final enrollment numbers for next year, we project we'll have 550 - 650 students living on campus.
Housing all students in the mods enables us to run more efficiently, ensuring a safe and vibrant community while centralizing services for student convenience.  Apartment-style living is the most requested option and we're able to guarantee this opportunity for all students.
We'll close Dakin next year and will reserve space in Merrill, if needed. Recognizing that not all students thrive in apartment-style housing, we'll look to Merrill if there is student demand.
Students will still participate in the housing lottery for choosing a mod apartment. For more information visit www.hampshire.edu/housing/mod-lottery-basics
As happens every summer, some students will decide to change their enrollment status, and rooms will become vacant. As Hampshire is aiming to centralize students for community building, efficiency and convenience mentioned above, Residence Life will use a consolidation policy. As vacancies appear in mods, Housing staff may shift residents of one half-full apartment into another half-full apartment. Shifts will be made based on mod designations (student housing preferences) and alternate lists. Mod groups will be kept intact: we will not separate mod mates. This process will continue until the housing freeze begins in mid-August.
Students will be notified in advance of any moves impacting their mod group via their Hampshire College email address over the summer or as soon as we are aware of vacancies.
FOOD SERVICES
Our smaller enrollment next year will also affect food services. The College will continue to provide dining options three meals a day on weekdays and two meals a day on weekends. We will be shifting dining services to the Bridge Café, Kern Café, and the HampStore. We'll expand the food service capacity of these three locations to better serve students. To staff these locations, we'll seek to employ more food service workers directly as Hampshire employees, including likely expanding our student workforce.
With all students living in mods, student life will also expand its dining-related programming to better serve students with resources such as:
bus options to grocery stores
programs on kitchen/cooking skills
programs addressing food insecurities and accessing the UMass Food bank
healthy meals and grab 'n go options, and
custom programs requested and developed by students.
We are developing a process to gather input from students to customize dining and menu options next year. We've already received requests for expanding the capacity of Mixed Nuts. Please look out for opportunities to share your ideas related to dining options next year.
Next year we'll continue the use of the Café Card for all residents. The current $400 per semester card funding will remain for all students, and no student will be required to be on a meal plan.
For Hampshire to remain viable as we explore long-term options, we need to operate as a smaller college. For this reason Hampshire is in talks with Bon Appetit about the future of its contract. Our focus is on treating every member of our community with respect through this transition. We recognize the daily contributions of employees of Bon Appetit to the quality of student life and campus life.
Many on campus are aware of a misunderstanding last week when a few Bon Appetit workers and their student allies tried to deliver a letter to Blair Hall. Mim and Mary have clarified the circumstances that led to the misunderstanding and offered to meet with the workers and any community members who request a meeting, in a letter delivered to the Bon Appetit workers on Tuesday.
If you have questions about housing and dining, please see the contact information below.
Sincerely,
Gloria Lopez, Dean of Students
Hampshire Housing Office
Tel. 413-559-5453
housing@hampshire.edu
www.hampshire.edu/housing
Drop In Hours: Fridays 2pm - 4pm
1