Masami Kawai 97F Selected for Sundance Institute's 2023 Directors and Screenwriters Lab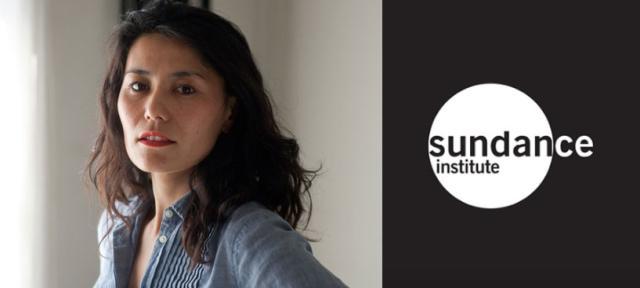 Kawai was one of 12 Fellows chosen from a pool of more than 2,000 submissions. Lab participants develop original works under the guidance of accomplished creative advisors.
Hampshire College alum Masami Kawai 97F was selected as a fellow to the 2023 Sundance Institute Directors and Screenwriters Lab for the feature film she wrote and directed, Valley of the Tall Grass. It tells the story of a TV/VCR combo set that is thrown out but survives and circulates through the lives of various working-class Indigenous characters of color in an Oregon town. They find forgotten memories, love, and connection through this seemingly obsolete object.
Kawai is a Los Angeles-born filmmaker of Ryukyuan descent who works as an assistant professor of filmmaking at the University of Oregon. Her films have screened at various venues, including the Rotterdam Film Festival, LACMA, and Indie Memphis. Her film Tides won Best Narrative Short at the Northwest Film Forum's Film Festival and the Eastern Oregon Film Festival. Her film Zona won Best Narrative Short at the Los Angeles Asian Pacific Film Festival.
At Hampshire, Kawai focused on visual arts, radical pedagogy, and post-colonial studies. After graduation, she devoted herself to community organizing before pursuing filmmaking again. She received her M.F.A. in directing from UCLA's School of Theater, Film, and Television.
The nonprofit Sundance Institute has for 40 years brought global independent filmmakers together to express their unique vision through an in-depth creative process that emphasizes compelling storytelling and risk-taking within a vibrant community. As part of the Institute's year-round work, the program has supported notable filmmakers who continue to influence the arts worldwide and uplifts accomplished and emerging artists extending from development through distribution.
Some previous Sundance Institute Lab Fellows are Paul Thomas Anderson, Darren Aronofsky, Lisa Cholodenko, Ryan Coogler, Nia DaCosta, The Daniels, David Gordon Green, Sterlin Harjo, Sky Hopinka, Miranda July, James Mangold, Quentin Tarantino, Taika Waititi, and Chloe Zhao.
1