Matthews Retirement Exhibit Reflects on Her Time at Hampshire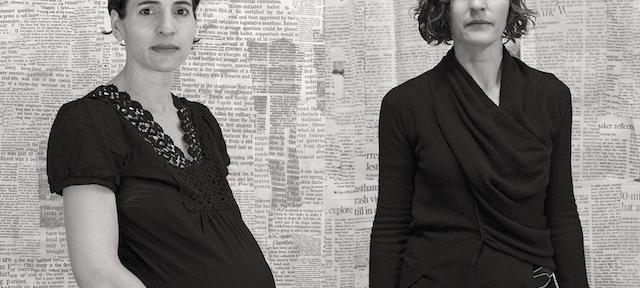 Commemorating 34 years of teaching at Hampshire, Sandra Matthews will premiere a reflective, retrospective two-part photography exhibit this month to mark her retirement. One part features photographic portraits from her Timelines series, which dates back more than 10 years and features images of people connected to the College combined over intervals of time or in generational groups. In the second part, Matthews is reprising Hampshire alum David Rosten's Division III project from 1984, posthumously displaying his historic portraits of Hampshire staff to honor his memory and his work.
"David was one of my first students at Hampshire," Matthews wrote in an e-mail to the Hampshire community, "He passed away two years ago after a very long illness. This significant project, which he completed in 1984, only increases in meaning over time."
A graduate of Harvard, Matthews received her MFA from SUNY Buffalo and then conducted photographic research in Hong Kong and mainland China. "It was very clear from that experience that there was very different and interesting work going on in China from what I had been exposed to in the United States," she says. "When I had learned about the history of photography, in the 1970s, it never included work by non-Western photographers. I was always asking myself, Where are all of the photographs by Asian photographers, African photographers, Latin American photographers?"
In 1981, Matthews came to Hampshire as a professor of film and photography.
She has dedicated the past eight years of her career not only to teaching but also to a forum for the study of photography from Asia. In 2010, the gaps in knowledge that she perceived led Matthews to found the Trans Asia Photography Review, an international journal for which she serves as editor. The TAP Review showcases scholarship on historical and contemporary photography from all regions of Asia.
The journal, a collaboration between Hampshire College and the University of Michigan Library, is published online twice a year. Its editorial board is an international who's who of Asian-photography scholars. Among its almost 30 members are the globally renowned art historians Geoffrey Batchen and Wu Hung, and anthropologist Christopher Pinney, as well as a half dozen scholars from New England:
David Odo, Harvard Art Museums
Anthony Lee, Mount Holyoke College
Young Min Moon, University of Massachusetts Amherst
Samuel Morse, Amherst College
Ajay Sinha,  Mount Holyoke College
Laura Wexler, Yale University
Matthews and the board have not been afraid to investigate challenging topics. For example, the theme of the current issue is photography in China from the 1930s to the present, and the journal includes an essay on participatory propaganda from Hong Kong's Umbrella Movement and one on digital manipulation.
Her life's work is embodied in the journal (http://tapreview.org/), and her passion is reflected in its vision, its scope, and its quality. This June, Matthews will be retiring from teaching, but says she'll continue to edit the TAP Review.
Matthews cites Barbara Norfleet, a sociology professor from Harvard with whom she studied, as an early inspiration who taught her to look at photography and writing as a "cultural phenomenon." Matthews has held this lesson close throughout her career and projects it throughout her works.
After retirement, Matthews says, she looks forward to completing a book of her Timelines series. The Timelines project has been central to her work for the past decade, but it evolved from a 1989 project: photographic portraits of women. Although the photographs for her exhibit will concentrate on the Hampshire community, the book will contain portraits of many other friends, family members, and acquaintances from all aspects of her life.
Sandra Matthews's retirement exhibit, with an experimental video accompanying it, will be held in the Leo Model Gallery from March 22 to April 15. A reception in the gallery, on Thursday, March 24, 5–7 p.m., is free and open to the public.
EXHIBIT OVERVIEW
In Time: Hampshire Family Portraits, 1989–2015, by Sandra Matthews
Reclassification: Portraits of Hampshire Staff, 1984, by David Rosten
March 22 to April 15, 2016
Opening reception, March 24, 5–7 p.m. (free and open to the public)
Leo Model Gallery
Jerome Liebling Center for Film, Photography, and Video
Hampshire College
893 West Street
Amherst, Mass.
Gallery Hours
Mon.–Fri.: 9 a.m.–5 p.m.
Sat. and Sun.: 1–5 p.m.
CAPTION: "Lise in 2008 / Lise in 2014" by Sandra Matthews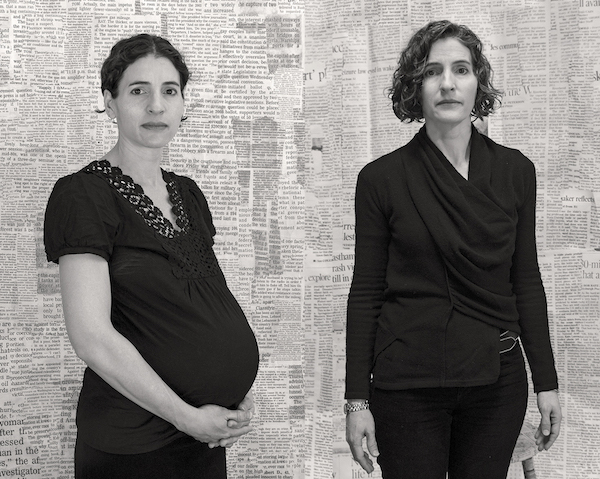 1