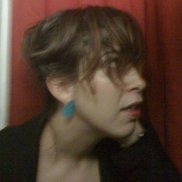 Family and Friends Weekend saw the return of Kate McNamara 99F to campus. Says Kate:

"Sura Levine invited me as a visiting curator to conduct art critiques with about 8 students in the art barn. I spent time with each student looking at their work and discussing their processes. Many of the students were in their Div 3 and I had the chance to engage in a dialogue about how their interdisciplinary studies have informed their artwork and what they hope to achieve as a final product in the end."

Kate McNamara currently holds the position of Curatorial Assistant at P.S.1 Contemporary Art Center and is a co-founder of Cleopatra's, a Brooklyn-based project space.
She received her M.A. in Curatorial Studies at The Center for Curatorial Studies, Bard College, New York, and her B.A. at Hampshire College.
Recent exhibitions include: Ode to Joy: Zak Kitnick, Cleopatra's, 2008; This is the Way the World Is, Cleopatra's, 2008; Affinities: Painting in Abstraction, The Hessel Museum at Bard College, 2007; from Witness, The Hessel Museum, 2006. She is a regular contributor to PS1 Newspaper.