Miriam Nelson, Prominent U.S. Health Scholar, Educator, and Policy Adviser, Named President of Hampshire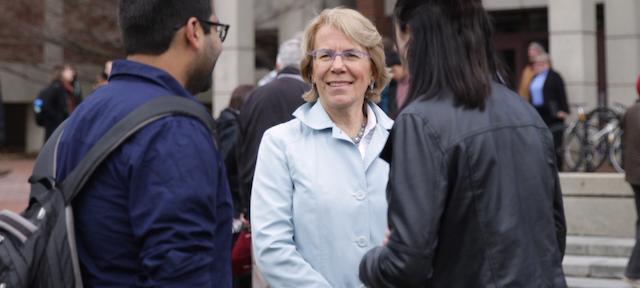 Hampshire College has announced its seventh president will be Miriam E. Nelson, PhD, a prominent health and nutrition scholar, scientist, university professor, higher education administrator, and government policy adviser. Hampshire's Board of Trustees made the appointment last week after receiving a formal recommendation from a presidential search committee comprised of faculty, students, staff, and trustees, and following an extensive, yearlong national search.
Based at Tufts University for more than three decades where she served in a series of roles with increasing research, management, and fundraising responsibilities, Nelson is an academic and public-scholar activist, earning national recognition for her expertise as a scientist and the author of groundbreaking studies on public health, nutrition, and civic engagement. Nelson succeeds Jonathan Lash, who will retire in June after completing his seventh year as Hampshire College president. She will begin her tenure at Hampshire on July 1.
Among her accomplishments at Tufts, Nelson:
Served for 25 years on the faculty, most recently as associate dean and professor, and was a dedicated teacher and mentor to students. She was chair of the faculty at Tisch College of Civic Life, devoted to building an enduring culture of active citizenship across the university, and founded the Committee on Diversity and Inclusion;
Published over 100 scholarly papers and presented at hundreds of conferences nationally and overseas;
Was health and nutrition adviser to the U.S. Department of Health and Human Services and U.S. Department of Agriculture. She was a senior adviser to Michael Pollan's Emmy-nominated documentary In Defense of Food and chief scientific adviser to PBS NOVA's Marathon Challenge film.
Authored the New York Times bestselling ten-book series Strong Women, based on the findings of a 1994 study she led, with more than a million books in print in 14 languages. The work has contributed to changing the culture and values of how mid-life and older women perceive themselves in society.
Secured tens of millions of dollars in resources from donors and funding agencies to support students, faculty, and programs.
Nelson, who goes by "Mim," comes to Hampshire College from the University of New Hampshire, where from 2016 she served as director of the Sustainability Institute, the oldest endowed institute of its kind in higher education. In her writings, she has called sustainability "a collective commitment to human dignity for all people and ecological integrity in all places. It is rooted in an intergenerational, ethical obligation to social justice, collaboration, and inclusive prosperity." During her time at the University of New Hampshire, Nelson, building on a 20-year foundation at the institute, led the Pathway to Platinum effort, engaging the entire campus to reach the highest rating of sustainability for any university or college in the country.
Nelson serves on the Board of Directors of Newman's Own Inc., the food company that donates all profits to philanthropic causes; Management Sciences for Health, an international NGO focused on improving public health and saving lives of the poorest and most vulnerable people in more than 50 developing nations; and the American Alpine Club.
From Chair of the Board Gaye Hill:
"We're beyond excited to welcome Mim to Hampshire College. She has a gift for empowering communities and the people who shape them. As a humanist and scientist, she has created original scholarly work that has brought meaningful change to the public sphere. I can't think of a stronger expression of Hampshire's motto, non satis scire, to know is not enough. As we look to Hampshire's next 50 years, we will draw on her experience in bringing people together in common cause. Her record of scholarship and service greatly impressed our search committee. She has built a world-class research center; mentored countless undergraduate and graduate students; and been a leading voice in advocating for inclusivity, diversity, and wellness. Mim is the right leader for Hampshire at this pivotal time, building on the extensive achievements Hampshire has attained through the leadership of Jonathan Lash. We are indebted to Jonathan for the vision, values, and voice he has given us these last seven years."
From incoming president Mim Nelson:
"Hampshire is a national leader in progressive education on issues at the heart of my own passions. This is a challenging time in the world, and communities need more graduates from an innovator like Hampshire. Now more than ever, higher education has a responsibility to empower graduates who are dedicated to taking action, who engage life and work with imagination and creativity, and who are versed in the knowledge, empathy, experience, skills, and values needed to address our most pressing challenges. I plan to work tirelessly to engage students and the entire community, to be their champion, to elevate the importance of resilience in all its dimensions so we can set an ambitious course for educating future leaders, building an inclusive community, and amplifying Hampshire's leadership, locally and globally."
Hampshire's presidential search committee began its work in 2017 with community-wide listening tours and an expressed commitment to select a president "steeped in Hampshire's values" — passionate about student potential, discovery through inquiry, rigorous research and creative freedom, and respect for differing viewpoints, with an ultimate goal to advance the College's founding principle to be an intellectual and moral force in the world.
About Hampshire College
Hampshire, founded in 1970, is among the most innovative colleges in the country. It requires students to pursue their passions by designing their own programs of study and recruiting a faculty committee to guide them on a rigorous path of discovery. The environment fosters intellectual engagement, exploration, and a willingness to experiment, supported by narrative evaluations rather than grades. The model has been described as "graduate school for undergraduates." Hampshire's success can be measured in the mainstreaming of many of its experimental ideas in education and in its roster of alumni achievement: Academy Award winners, Emmy Award winners, best-selling authors, scientists, historians, Peabody winners, MacArthur Foundation "genius grant" awardees, and more PhD candidates than any other school of its size. More than a quarter of Hampshire graduates have started their own venture or organization, which landed Hampshire on Forbes's 2015 short list of most-entrepreneurial colleges. Hampshire is part of the Five College Consortium, through which students at Amherst College, Mount Holyoke College, Smith College, and the University of Massachusetts Amherst share classes, library systems, and other resources and facilities.
About President Nelson
Committed to Active Citizenship, Diversity, and Inclusion
In her most recent role at Tufts University, from 2014-16, Nelson held positions of associate dean and chair of the faculty at the Jonathan M. Tisch College of Civic Life, devoted to building a culture of active citizenship across the university and the world. The college helps to prepare students for a lifetime of engagement in civic and democratic life, to study civic life and its intersections with public and private institutions, and to promote practices that strengthen civic life in the United States and around the world. She helped grow the endowment, managed partnerships and student programs to strengthen the curriculum around civic literacy, and founded and chaired a Committee on Diversity and Inclusion to support campus climate by focusing on staff and faculty training, the campus environment, student engagement, and increasing diversity through active recruitment. She led efforts to hire more women and people of color in senior leadership positions throughout Tufts University by being the catalyst in the formation of the Women and People of Color in Senior Leadership Committee within the Provost's Office.
Builder of National Programs in Scholarship, Science, Wellness, and Service
Nelson has been a member of the Tufts faculty since 1990 (now emerita), and last served as professor in the Friedman School of Nutrition Science and Policy. She also served concurrently for 15 years as the founding director of Tufts' John Hancock Research Center on Physical Activity, Nutrition, and Obesity Prevention. As the Center's director, she secured more than $43 million in funding and grew the organization from its initial staff of two to a diverse workforce of 55, growing the annual budget from $300,000 to $7.9 million. She and the associate director built a team of faculty and staff that mentored students, conducted original research, and influenced national policy to improve nutrition and fitness. First Lady Michelle Obama's Let's Move! Campaign highlighted one of the Center's initiatives as a national model of community best practices. During her tenure, the Center trained thousands of allied health professionals and partners to provide community-based health services and programs.
In 2009, she cofounded ChildObesity180 with Peter Dolan, chairman of the Tufts University Board of Trustees and former CEO of Bristol-Myers Squibb, and Dr. Christina Economos, Tufts professor and international childhood obesity prevention expert, backed by the Robert Wood Johnson Foundation. The organization developed initiatives such as the New Balance Foundation Billion Mile Race, which aims to reverse the trend of childhood obesity by uniting the resources of national leaders across public and private sectors.
Adviser to the White House and Federal Agencies
As a public health researcher, Nelson held appointments for more than 10 years advising the U.S. government on health, nutrition, fitness, and child obesity. During the administrations of Presidents George W. Bush and Barack Obama, she helped develop the U.S. government's dietary guidelines as a member of the 2010 and 2015 Dietary Guidelines Advisory Committees for the Department of Health and Human Services and Department of Agriculture. In 2015, she spearheaded the influential work connecting the dietary guidelines to sustainability. She and her committee colleagues showed how a diet higher in plant-based food and lower in animal-based foods is not only healthier, but also has less environmental impact on energy, land, and water use. The resulting work was the catalyst for the My Plate, My Planet grassroots campaign, which recently influenced the Canadian government to embed sustainability in their national dietary guidelines. From 2011 to 2014, Nelson served on the President's Council on Fitness, Sports, and Nutrition. In 2008 she served as vice chair of the Physical Activity Guidelines Advisory Committee for the U.S. Department of Health and Human Services.
Public Scholarship and Activism
Among her groundbreaking clinical research trials as a scientist for 30 years, Nelson demonstrated that physical activity and good nutrition dramatically reduce the risk of a number of chronic diseases. She is lead author and coauthor on over 100 scholarly papers, including original research published in the Journal of the American Medical Association and the New England Journal of Medicine, on such subjects as the impact of nutrition and exercise on the prevention of obesity, heart disease, diabetes, osteoporosis, and arthritis.
Based on her seminal study on the benefits of strength-training for older women, Nelson published her first book, Strong Women Stay Young, in what would become her bestselling Strong Women book series, comprised of ten titles selling more than a million copies in 14 languages. Five New York Times bestsellers among them, the series inspired Nelson to found the StrongWomen public health community program, currently operating in 30 states. The series enabled Nelson to publish a monthly column in Prevention magazine, reaching millions of readers. As a recognized expert on health and nutrition, Nelson is often interviewed by national media. She has appeared in her own PBS special titled Strong Women Live Well and has been featured on The Oprah Winfrey Show, The Today Show, Good Morning America, ABC Nightly News, CNN, Time, Fresh Air, Discovery Channel, and others. In 2006 and 2007, Nelson worked as the lead scientific adviser with PBS NOVA to produce a documentary titled Marathon Challenge, seen by more than six million viewers in its first year.
Fundraising and Securing Investment
At Tufts, Nelson supported and worked with senior leadership on major fundraising initiatives, including a nine-year, comprehensive campaign that raised $1.2 billion for the university. At John Hancock Research Center, she oversaw the fundraising effort that attracted more than $43 million to the Center. She helped secure a $15 million gift for Tisch College; $27.5 million for ChildObesity180; $4.5 million through the Tufts Marathon Team; $1.7 million for her Strong Women health initiative; and millions of dollars for student fellowship and research grants from federal and private sources.
Nelson is married to Kinloch Earle, a classical violinist. They have three grown children, Mason, Eliza, and Alexandra. Mason is a professional rock climber, Eliza an adventure photographer, and Alexandra a global public health professional. As a family, they love the outdoors, especially back country skiing, rock climbing, hiking, and trail running.
Hampshire's Presidential Transition
Hampshire's Chair of the Board Gaye Hill is forming a committee to help manage the transition between presidents. "The most important job of any governing board is to identify and select the right person to lead their institution," Hill said.
"Our highest priority has been a presidential search that achieves continuity and quality of leadership for this remarkable College." Nelson plans to visit campus often this spring and to devote time to meeting students, staff, and faculty, while planning a seamless transition with President Lash. 
Jonathan Lash will retire this June, at age 72, having completed seven years in office. An internationally accomplished environmental leader, Lash came to Hampshire in 2011 from his previous role as president of the World Resources Institute, a Washington-based, global environmental organization. He was appointed by President Barack Obama to serve on the Blue Ribbon Commission on America's Nuclear Future, and by President Bill Clinton to co-chair the U.S. President's Council on Sustainable Development. Lash played a key role in the creation of the U.S. Climate Action Partnership, which in 2007 issued the "Call to Action" on global warming. He previously served as Secretary of the Vermont Agency of Natural Resources, Vermont's Commissioner of Environmental Conservation, and director of the Environmental Law Center at the Vermont Law School, rated the best program of its kind in the United States. He is a former Peace Corps volunteer and federal prosecutor.
Among Hampshire's achievements during Lash's tenure, the College:
Instituted a mission-driven admissions policy to enroll students for whom Hampshire presents the opportunity to thrive, refusing to accept SATs because they lack predictive value and are biased against low-income families;
Developed an investment policy that is leading the nation in ethical and socially responsible practices, increased the endowment by 80%, and nearly doubled annual philanthropic investment in Hampshire;
Revitalized learner-centered pedagogy, giving students and faculty new platforms to ignore intellectual boundaries by endowing professorships and creating innovative programs (Ethics and the Common Good, Entrepreneurship, Knowledge Commons);
Enriched Hampshire as a community of inquiry by increasing the diversity of the student body, faculty, and Board of Trustees;
Met more student need through financial aid, increasing the percentage of need met from 85% to 94%. Total grant aid and merit aid to students increased from $27 million in 2011 to $32.5 million in 2018;
Refined a sense of place and purpose by making significant improvements to labs, classrooms, performance spaces, residence halls, and common areas;
Constructed the Living Building-certified R.W. Kern Center, a new center of gravity on campus and a living laboratory whose environmentally sustainable systems have fueled student research and tutorials;
Furthered Hampshire's commitment to the health of the planet by committing to going completely solar for its electricity and reframing how the College sources and manages food on campus;
Differentiated the College in the higher education marketplace by capturing the distinctive soul of the institution in communications work and projecting it to the right constituents.