Muhammad Delivers Eqbal Lecture on Race and Policing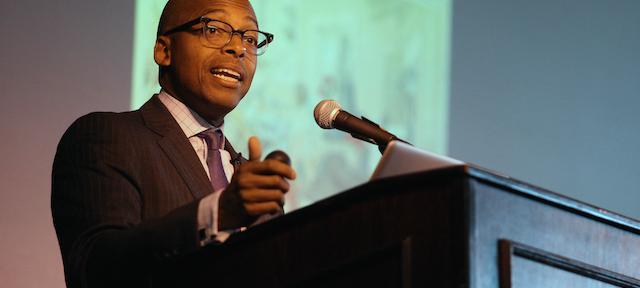 The trial of O.J. Simpson and the 1991 beating of Rodney King by Los Angeles police, said Khalil Gibran Muhammad, compelled him as a student to try and understand racial criminalization and its history in the United States. 
Addressing the crowd at the 2016 Eqbal Ahmad Lecture, "Life in a Penal Democracy: Race, Policing, and the Limits of Liberal Reform," the Harvard Kennedy School professor of history, race, and public policy said those incidents had the same sort of impact on him that the current generation has felt through the killings of Trayvon Martin and Michael Brown, the imprisonment of Marissa Alexander, and countless other examples of black lives wronged by the criminal justice system in recent years.
"I never cared whether O.J. did it or not," said Professor Muhammad. "I was motivated by calls for radical criminal-justice reform."
How to enact that reform, though, has been a challenge for more than a century. It's a challenge exacerbated, he said, by the use of statistics and a reliance on empirical investigation that, despite their scientific grounding, have long shown themselves malleable to human ideology. Attempts to eliminate individual prejudices and fallibility through numbers and legal structures built on computerized analysis and dispassionate research, he says, have proved over the past several decades to be as imperfect as were previous approaches.
"Those algorithms are no more capable of escaping bias than are we who built them," he said.
At the heart of the issue, says Professor Muhammad, is that "this is not a rogue officer problem. This is a rogue society problem." Asking "How did liberals with the best of intentions build prison America?" he explored the long and controversial history of statistical analysis in relation to the criminalization of black Americans. His research brought to light articles and studies dating from the late 1800s, in the years following the Civil War and emancipation, right up to present-day documents.
A census from 1890, for example, found that blacks made up 30 percent of the prison population despite being just 12 percent of the American populace. "This was a fact, not a construction," Professor Muhammad said, but the dramatic numbers, used by some to argue that blacks were unfit to be free members of society, couldn't tell a full story. How many of that 30 percent were innocent could never be answered, he said, nor could innocence even be defined in a system built, he argued, in a way that was hostile to black freedom and where many laws were intended, he said, "to strike terror into the hearts and minds of black people." As statistical analysis became a powerful tool during the industrialization of America, it also became a method of pigeonholing the black population in a way that continues to have an impact in the 21st century.
"We live in the long shadow of this early big data," he said.
As statistics and other arguably empirical approaches had long reinforced "tainted science" that too often became a central part of the dialogue, he suggested that Hampshire students and their peers working to challenge these assumptions need to carefully choose their tools and methods. But he recognized the tremendous amount of community-based knowledge — more, possibly, than at any other time in history — that can be used to solve these societal problems.
The annual Eqbal Ahmad Lecture honors the teaching, scholarship, and activism of the longtime Hampshire College professor, who died in 1999. Professor Ahmad was described by the scholar Edward Said as "perhaps the shrewdest and most original anti-imperialist analyst of Asia and Africa." Hampshire College President Jonathan Lash noted that in a world "where disagreement too often turns to shouting, where conflict turns to violence," Professor Ahmad was a "courageous voice for justice" who "built lifelong dialogues with those who began as his opponents."
Naomi Murakawa, associate professor of African American studies at Princeton University, was also invited to speak at this year's Eqbal Ahmad Lecture but had to cancel due to illness. 
GALLERY
Associate Professor of Africana Studies and History Chris Tinson moderated a discussion between Muhammad and audience members. President Jonathan Lash and Professor Margaret Cerullo introduced Muhammad.
1