President Nelson Welcomes Class of 2018, Announces Year of Strategic Visioning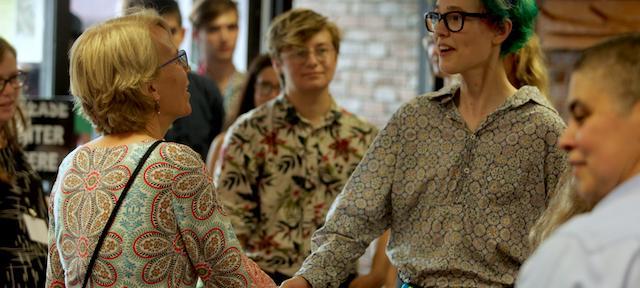 It's a time for renewal: This was the message from Hampshire President Miriam Nelson to the class of fall 2018 and returning students, staff, and faculty as the semester began. The College's seventh president began her tenure by announcing that she and the Board of Trustees would engage the Hampshire community in a year of strategic visioning in advance of its 50th anniversary, in 2020. Nelson said their main goal is to ensure the College is prepared to reach its highest potential as it begins its second half century.
Addressing community members gathered at Orientation and Convocation and in her first letter to the campus, Nelson said the 50th anniversary is an opportunity to rededicate the College to exerting national influence on the true potential of higher education, especially in this era of persistent challenges across the liberal arts, culture, politics, and the social contract. 
"This is about evolving education," Nelson said in her opening letter. "I can't think of a more Hampshire undertaking to launch us into our next half century." She said she believes there's no academic model better geared to meet the challenges ahead. Referring to the College's visioning initiative, which will begin formally in late October, following the Board of Trustees meeting, she added, "We can and we must take this leadership role. It's why we were founded."
ORIENTATION FOR CLASS OF FALL 2018
The 2018–19 academic year began with Nelson, joined by Vice President for Student Affairs and Dean of Students Gloria Lopez and others, welcoming 330 new students to Orientation, addressing them and their families under the tent on the library lawn. "I know what it feels like to be a first-year on your first day, because I'm also a first year," Nelson said. "This is my first semester as president, and my first Hampshire Orientation. We're beginning this great adventure together, and I couldn't be more excited."
Nelson came to Hampshire from the University of New Hampshire and before that Tufts University, where for more than three decades she held senior administration and faculty positions. A prominent health and nutrition scholar, scientist, and government-policy adviser, Nelson was recommended by a presidential search committee comprising Hampshire faculty, students, staff, and trustees, and appointed in April by the board.
In her welcome to the class of fall 2018, Nelson talked about the admissions essays the students had written almost a year ago, when the College first learned, she said, about "your promise, your values, your identity, your capabilities, your hopes and dreams."
At the only college that doesn't accept SAT and ACT scores for admission, each student has a singular story to tell, she said: "One of you builds musical instruments and already spent time in a Hampshire summer program working in our design center. One of you made a documentary on your school's health curriculum and inspired the school to revamp the curriculum for LGBTQ inclusion. Another student attended our annual Young Feminist Camp at Hampshire, and is working to represent Hispanic women and feminism in education. One of you wrote and illustrated a children's book to teach about the environment and created a community open house about climate change."
The four-day Orientation was organized by the office of New Student Experience and its director, Elizabeth Parolski. The first-year and transfer students were put into groups and guided by Division II and III students. First-year Division I students were introduced to the professors of their fall tutorial courses, who also be their initial advisers. There are 23 tutorial classes for new students this fall, on a variety of topics, among them:
Migrants and Refugees
Economics of Peace-Building
Media and Cars
Child Psychology in the Digital Age
Introduction to Queer Studies
Feminist Philosophy, Politics, and Literature
Orientation activities ranged from practical to social. The group leaders introduced newcomers to specifics of the College's singular academic program as well to student services, the student handbook, housing and residence life, and health and wellness. Orientation groups discussed policies and resources related to substance use and sexual misconduct. In the dorms, resident advisers organized first-time get-togethers of hall mates.
The College also held an inaugural event: At the Book and Bell Dinner, all new students received a bell marking the start of their Hampshire experience, which will culminate when they pass their Division III, earn their degree, and ring the Division-Free Bell at the library. [Watch the video.]
Just as Hampshire asks students to design their own degree program with faculty mentors, the College asked student Orientation leaders to create custom programming, which resulted in a range of activities and workshops, such as:
A dance party with the Five College Dance Department
Board Game night
Real Talk, presented by students, on substance use
Pokémon Go
An Open Mic variety show
Patch-making and embroidery
The College also programs Orientation to address issues of power, privilege, oppression, and identity. New students were invited to meet-and-greet activities for LGBTQ students, international students, students of color, and first-generation students, as well as for many other identities. And they attended Our Identities, Our Community, a daylong, foundational identity workshop designed to help them better understand their own multitude of identities, the ways in which they intersect, and how they inform their experiences on campus and in society.
Hampshire's common reading this summer was Parable of the Sower, the award-winning 1993 work of speculative fiction by renowned author Octavia E. Butler, who is associated with the Afrofuturism movement. The faculty who chose the book thought the near-future dystopia depicted in the book, which the College had sent to new students, was relevant to the current political, economic, and social climate. Discussions of the book during Orientation were aimed at developing an intellectual community attuned to issues of racial and economic justice. 
As part of the College's year-round sexual-assault prevention and education program, students attended a theatrical piece written by Hampshire and Five College alums and students titled Consensual Sensual: Sexual Violence Prevention and Consent. This piece comprises fictional vignettes across sexual identities and partnerships performed by members of the Five College community, among them sexual-violence survivors, allies, consent educators, trauma counselors, and safer-sex educators. The vignettes span confessional monologues, consent conversations, bystander strategies, and stories of support for both survivors and those who have perpetuated violence. Afterward, Orientation groups discussed the scenarios.
CONVOCATION
After Orientation, President Nelson invited the whole campus to convocation, and hundreds of students, faculty, and staff came together under the tent for talks and performances. Looking at all students enrolled at the College, Hampshire students this year come from 48 states and from 20 countries outside of the United States. Thirty-one percent are students of color and 21 percent are the first generation in their families to attend college.
In her remarks, Nelson cited a speech by Hampshire's first president, Franklin Patterson, delivered at the College's first convocation, in 1970, when Patterson clarified that Hampshire is an experimenting college, not experimental. "'Experimental' sounds like a novelty," Nelson read, "but 'experimenting' . . . that's not only an adjective, but it's also a verb. To me it means Hampshire should never and will never be complacent."
Coincidentially, Nelson and Patterson had both been senior faculty at Tufts University Tisch College of Civic Life (Patterson was at Tisch when it was known as the Tufts Lincoln Filene Center), and their tenures at Tufts were five decades apart, just as are their Hampshire presidencies.
Speaking at convocation, Nelson said, "We have one of the most powerful educational models I've ever seen. That's what happens when you give students agency in their education, working side-by-side with faculty mentors and accomplished staff. It takes guts for one to decide to be here, at a school that follows questions into unmapped regions instead of traveling familiar and well-worn paths."
Specifically addressing Hampshire students, Nelson said, "The prospect of each of you fulfilling your individual potential here at Hampshire is profound. That's why I'm here."
1