Professor Annie Rogers on Language and Art by Patients in Psychosis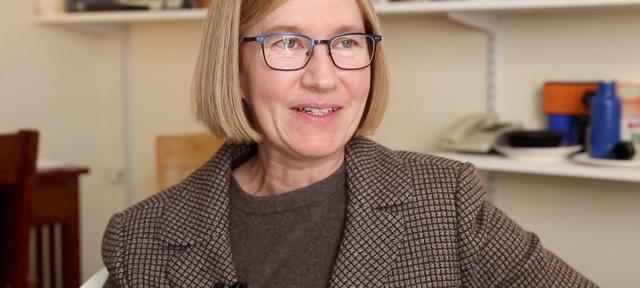 Hampshire Psychoanalysis and Clinical Psychology Professor Annie Rogers's Incandescent Alphabets: Psychosis and the Enigma of Language (Karnac Books, May 2016) explores the connection between speech patterns and art made by patients in psychosis and incorporates first-person accounts of the experience. 
On April 27, 7:30 to 9:00 p.m., Rogers will present slides of art from within psychosis from her book in the Kern Center, Room 108. The presentation, free and open to the public, will be followed by a discussion.
Rogers explains that speech patterns and art are often united attempts by patients to make sense of their disjointed internal narrative. "In response to the experience of language derailed, artists in psychosis make clocks, numbers, music, and scripts, the infinite unfolding of codes," she says. "These artists' images attest to a work of repair through what I call 'incandescent alphabets,' a new orientation in time, space, and language."
According to the publisher's Website, Rogers' book "explores psychosis as knowledge cut off from history, truth that cannot be articulated in any other form," adding, the psychotic uses language in a singular way to explain a strange experience that they cannot exit. The publisher continues, "Based on first person accounts, the book orients readers to an enigmatic Other, pervasive and inescapable, that will come to inhabit every aspect of the psychotic's being, thought and bodily experience.... Dr Rogers offers ways to listen to language in delusion, and argues for the promise of a modified psychoanalytic treatment with psychosis."
Psychoanalyst and author Ian Parker calls Rogers's book "an amazing conceptual and poetic alternative that makes of the experience of psychosis an illuminated manuscript from which readers learn about the author, [about] the people she works with, and about themselves."
Rogers received her BA from Webster College and her doctorate from Washington University and came to Hampshire after 15 years of teaching and research at Harvard University. She has conducted studies on a range of topics, such as girls' psychological development and trajectories of change in child analysis, as well as on language and visual art in psychosis.
Codirector of Hampshire's Psychoanalytic Studies Program, she is an analyst member and on the faculty of the Lacanian School of Psychoanalysis, San Francisco, and an associate member of Ireland's Association for Psychoanalysis & Psychotherapy. She is also a member of Zea Mays Printmaking.

Rogers was awarded a Fulbright Fellowship at Trinity College, Dublin; a Radcliffe Fellowship at Harvard University; and a Whiting Fellowship at Hampshire College; and was an Erikson Scholar at Austen Riggs. She is the author of two previous books, A Shining Affliction (Penguin Viking, 1995) and The Unsayable (Random House, 2006), in addition to numerous scholarly articles, short fiction, and poetry.
1