Professor Dorceta Taylor Brings Social Justice to Environmental Studies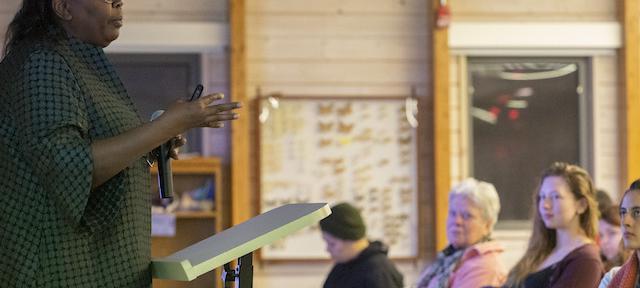 Green is not the color of wokeness. The very government agencies, NGOs, and foundations who promulgate environmental justice often lag in racial inclusivity—a problem that begins in the classroom.
"I'd look around my classes and wonder 'where are all the other black students?'" said environmental sociologist Dorceta Taylor, who visited the Hitchcock Center for the Environment on Thursday evening to deliver a talk about diversity in environmental organizations.
About 100 people from across the Five Colleges gathered to hear her speak. The Hitchcock Center is part of the College's Cultural Village, and its new building was designed to meet Living Building standards, like Hampshire's R.W. Kern Center, the most stringent environmental classification in the world.
Dr. Taylor—the James E. Crowfoot Collegiate Professor of Environmental Justice and Director of Diversity, Equity, and Inclusion at the University of Michigan's School of Environment and Sustainability—broke new ground in environmental studies with the publication of The Rise of the American Conservation Movement: Power, Privilege, and Environmental Protection (Duke University Press, 2016). Her book examines the leading role of urban elites (think: Theodore Roosevelt) in founding the U.S. conservation moment in the late nineteenth and early twentieth centuries. She argues that race, class, and gender influenced every aspect of the moment—and still do, creating what Taylor dubs a "The Green Insider's Club."
"Dr. Taylor is a ground-breaking scholar, teacher, and activist in the realm environmental justice," said Tim Zimmerman, the Jonathan Lash Chair and assistant professor of environmental education in the School of Cognitive Science, who brought Taylor to the Five Colleges area, where she spoke at Mount Holyoke on Thursday afternoon.
In 2014, Taylor authored a highly regarded report, "The State of Diversity in Environmental Organizations: Mainstream NGOs, Foundations, and Government Agencies," which is hailed as the most comprehensive report on diversity in mainstream environmental organizations. By surveying 191 environmental nonprofits, 74 government environment agencies, and 28 leading environmental grantmaking foundations, she discovered that collectively they employ only between 12 and 16 percent minority workers.
They suffer, she said, from an unconscious bias that hampers recruitment and retention of talented people of color. Yet, on paper, they tout the importance of diversity in the workplace. Equally disturbing, she found that "none of the largest-budget environmental organizations has had [at the time of the report's publication] a president, vice president, or assistant/associate director who was a person of color."
The diversity problem is amplified, she argued, because nature is perceived as a space with few or no people of color.
"Images of black men hiking outside is something you almost never see. And [images always show] white adults transmitting knowledge to a young person of color," she said.
Taylor is hopeful that things are changing for the better. Gradually, people of color are "claiming their space in nature."
Gender inequality also prevails in many environmental organizations. While these groups eventually opened the doors to white women, who typically make up about half the staff members of environmental organizations today, the vast majority of female workers earn 35 percent less than their male counterparts, according to Taylor.
Dr. Taylor's ideas break open "the ways race, male and female self-designation, and sexual orientation both materially and socially reproduce environmental injustices," said Zimmerman.
Sara Draper, the R.W. Kern Center Director of Educational Program and Outreach, found Taylor's talk both inspirational and useful.
"I'm very conscious of the need to invite diversity into the environmental community at Hampshire, and I appreciated Dr. Taylor's straightforward advice on how to create spaces and partnerships that help make that happen," she said.
Zimmerman funded Taylor's visit with a grant from the Roddenberry Foundation, which targets the intersection of social justice, environmental sustainability, and resilience. According to its website, the foundation was launched in 2010 by Eugene Roddenberry 92F, to honor his father, Gene Roddenberry, creator of the Star Trek series and build on his legacy and philosophy of inclusion, diversity, and respect for life to drive social change and meaningfully improve the lives of people around the world.
"It was an honor to have her meet with and speak to our community," Zimmerman said. "She provided our students with a scholarly background that will jump-start their deeper inquiries of these ideas in their classes, their Divisional work, and in their own activism. This was truly a unique educational experience for everyone."
1