Professor Ravett's 'Holding Hands With Ilse' To Premiere at Multicultural Film Fest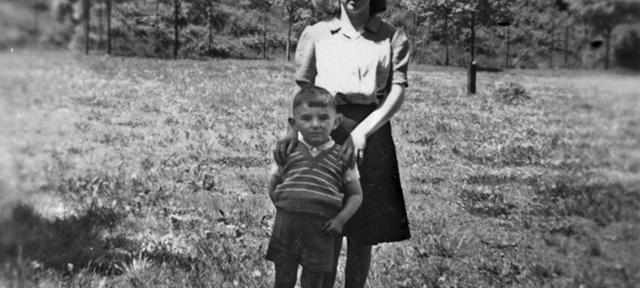 For Hampshire College Professor of Film and Photography Abraham Ravett, a single grainy photograph provided all the inspiration he needed for his newest film. It also helped solve a family mystery dating to World War II. 
Ravett's Holding Hands with Ilse (93 minutes) will make its local premiere April 19 at 7:30 p.m. The film will be screened as part of the Massachusetts Multicultural Film Festival at UMass Amherst, 137 Isenberg School of Management, and Ravett will be present.
Knowing only her first name and circulating to communities overseas a small photograph taken of the two in 1950, Ravett explores the urban landscapes of western Poland and his journey involved in piecing together his family's emigration story. Ravett learned that a mix of communications, from the Internet to newspapers to personal relationships, was required to bring about a reunion that recently took place in Ibbenbüren, Germany.
Ravett holds a BFA and an MFA in filmmaking and photography and has been an independent filmmaker for the past 35 years. He was born in Poland and raised in Israel and the United States. Ravett has received grants for his work from the Massachusetts Cultural Council, the National Foundation for Jewish Culture: Fund for Documentary Filmmaking, the National Endowment for the Arts, the Massachusetts Council on the Arts and Humanities, The Japan Foundation, the LEF Foundation, the Marion and Jasper Whiting Foundation, and, in 1994, a filmmaking fellowship from the John Simon Guggenheim Memorial Foundation.
His films, including several one-man shows at New York's Museum of Modern Art, have been screened internationally. His work has won Top Prize at the Viennale 2000, the Ann Arbor Film Festival, and the Onion City Film/Video Festival. In 1999, he collaborated with dancer/choreographer Bill T. Jones on Jones's solo performance, "The Breathing Show." A retrospective of his films was held at the 2014 Festival Film Dokumenter Yogyakarta, in Indonesia.
Presenting the best of new fiction, documentary, and experimental filmmaking from an international field, the Massachusetts Multicultural Film Festival seeks to cultivate an appreciation of the moving image, to inspire audiences to a deeper understanding of the world's cultures through film, and to celebrate past, present, and future achievements of international filmmaking within a university setting. Its culturally diverse films are screened for the benefit of students, faculty, and the public, with critical introductions by scholars and filmmakers.
REFERENCE
Abraham Ravett is interviewed by the Amherst Bulletin about his search for Ilse: http://www.amherstbulletin.com/Archives/2015/10/23artRavettSearch-hg-10…
1