Professors Earn Whiting Foundation Grants for Research and Teaching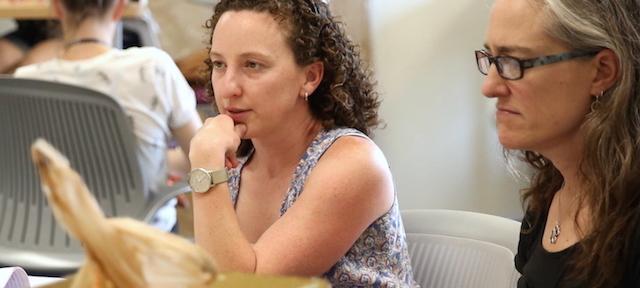 Assistant Professor Tammy Owens is traveling through New York and New Jersey documenting the experiences of young black girls working as domestic laborers in the 20th century, while Professor Annie Rogers will visit Canada and England to interview an artist with psychosis and study his works. They are two of six Hampshire faculty members who this year earned Marion and Jasper Whiting Foundation fellowships, funding their travel for research that will directly enhance their courses and student mentoring.
Building on their ongoing work, the six professors will create innovative curricula and augment current courses with the goal of enriching their students' learning.
Since 1997, the Marion and Jasper Whiting Foundation has awarded 46 fellowships to Hampshire faculty, totaling more than $255,000. The College's six fellows this year, who will receive amounts ranging from $3,000 to $9,750, are the following.
Christina Cianfrani, associate professor of hydrology, and Sarah Hews, assistant professor of mathematics, both in the School of Natural Science, are expanding their knowledge of green-building practices, inspired by Hampshire's net-zero living building, the R.W. Kern Center. Focusing on the theme of connecting the living and built environments, they're visiting 10 sites in the northwest and northeast United States that meet the stringent "living building" standards and/or have innovative green designs relating to water-supply treatment. They will bring what they learn back to Hampshire to develop a research and teaching program as well as to augment their innovative Integrated Sciences tutorial courses for first-year students.
Claudio Nolasco, assistant professor of photography in the School of Humanities, Arts, and Cultural Studies, will travel to France for Paris Photo 2018, the world's largest international art fair dedicated to photography. There, he plans to observe the latest trends in photographic practice and attend numerous exhibitions, panels, lectures, and discussions. He will then incorporate what he learns into his Hampshire courses and widen the scope of his advising, and work with staff in the library and art gallery to showcase new contemporary works for the benefit of the campus and the public at large.
Tammy Owens, assistant professor of diasporic youth cultures in the School of Critical Social Inquiry, is examining the histories of black girls in the domestic labor market, centering her work on the intersections of race, gender, and child labor during the 20th century. She's conducting research in several mid-Atlantic locations, taking pictures, recording videos of routes the girls walked, and acquiring maps and documents. This will help her create a digital archive of black girlhood that will add to the content of her courses.
Monique Roelofs, professor of philosophy in the School of Humanities, Arts, and Cultural Studies, is researching urban sites and architectural designs that are focal points in books by acclaimed Latin American writers Alejo Carpentier and Julio Cortázar. She is traveling to the cities in Carpentier's and Cortázar's texts — Havana and Buenos Aires, respectively — to study the dynamics of decolonial, cosmopolitan, and aesthetic interaction catalyzed by the characters in their books. Upon returning to Hampshire, she will revise three courses, among them two she will co-teach with Norman Holland, associate professor of Hispano literatures. Her work will also strengthen the partnership Hampshire recently formed with the Alejo Carpentier Foundation, in Havana, a component of the College's longstanding Cuba exchange program.
Annie Rogers, professor of psychoanalysis and clinical psychology in the School of Critical Social Inquiry, is traveling to Canada and England to research the effects of psychosis. She plans to interview John Devlin, a man who experienced a psychotic break in the 1980s and has since been creating artwork and writing about it, as well as visit the person who has the biggest collection of Devlin's works. This will give her the rare opportunity to study subjective thinking by an artist about his own work.
1