Rebecca Thomas Earns Fulbright Award to Teach in Ecuador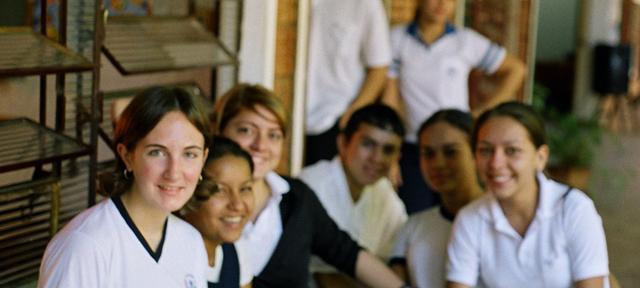 Hampshire College alum Rebecca Thomas has earned a Fulbright Award from the U.S. Student Program, the nation's largest exchange program, to teach in Ecuador as an English Language Assistant.
Thomas 07F will spend nine months in Ecuador, where she will work in an institution of higher education that trains future English teachers. Currently she is a senior program assistant at the Five College Center for the Study of World Languages, in Amherst. Several Fulbright Assistants from other countries work with students there, and she says their experiences, coupled with her interest in foreign travel and culture, led her to apply for a Fulbright.
"I saw how they enjoyed it and learned from it," says Thomas. "As a language-training assistant, my responsibilities may include giving presentations on different topics related to the United States and its culture, preparing classroom activities, and encouraging students to communicate in English."
In the past six years, Hampshire grads have earned 13 Fulbright awards, according to Carin Rank, director of Hampshire's Career Options Resource Center. Three years ago, Hampshire was named one of the nation's top-producing institutions for the 2014–2015 Fulbright U.S. Student Program, when four of the College's grads won awards. And last year, three Hampshire students and alums earned Fulbright awards (the State Department did not fulfill one of them due to unexpected safety concerns about working in Turkey).
At Hampshire, Thomas's concentration was on environmental issues and social justice. A semester spent in Senegal, as well as travel abroad in Paraguay in her year between high school and college, cultivated her interest in foreign cultures, she says.
Thomas plays the oboe and was a member of the Amherst, Smith, and Mount Holyoke College orchestras, and says she looks forward to exploring Ecuadorean musical traditions during her assistantship.
"My teaching responsibilities will be up to twenty hours per week, and in the remaining time I'd love to volunteer to work with young Ecuadorean musicians," she says. "I'm also interested in taking classes on Ecuadorean musical styles such as pasillo, San Juanito, and marimba."
The Fulbright U.S. Student Program offers opportunities for students and young professionals to undertake international graduate study, advanced research, university teaching, and primary and secondary school teaching worldwide. The program currently awards approximately 1,900 grants annually in all fields of study and operates in more than 140 countries. The English Teaching Assistant Program places recent college graduates and young professionals in classrooms abroad to provide assistance to local English teachers and also to serve as cultural ambassadors for the United States.
1