Recent Graduate Max Solomon Frye 20F Develops Innovative Training Program for Childcare Providers of All Kinds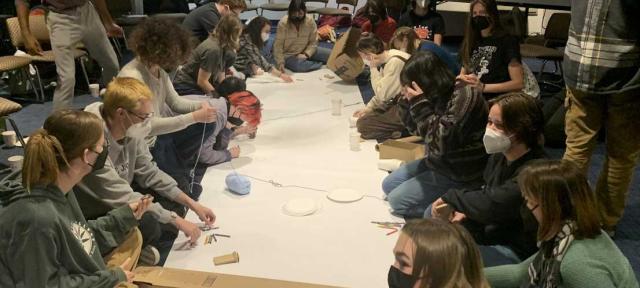 The Div III project explores the ways children are educated, emphasizing opportunities for them to succeed through self-expression, as well as collaboration.
When Max Solomon Frye 20F transferred to Hampshire, he planned to study education to become a teacher and began by taking practical classes that would prepare him for licensure exams and classroom placement. "But I started questioning if classroom teaching was for me," he says. "So, I designed a field of study focused on the cross-section of education, sociology, psychology, human development, and childhood studies."
Frye's interdisciplinary Division III culminated in a program called "Breaking The Box: Trainings for Ethical Childcare and Youth Engagement" aimed at teaching people how to work with kids in settings like summer camps and babysitting in homes, as well as in school. His model includes both "the practical skills of childcare as well as larger conceptual ideas that often aren't covered in other programs, including needs-based conflict management and navigating social power dynamics between youth and adults." The intention is to fill these gaps while considering the complexities of childhood and adolescence and providing developmentally appropriate care.
The interactive training is comprised of 11 modules, each of which centers the value of children's autonomy, empowerment, and lived experiences. Frye tested a few modules at the end of the fall 2022 semester in a session focused on children's play, conflict management, and adult boundaries, delivered to 30 participants in the Franklin Patterson Hall faculty lounge. The experience was well-received and helped him fine-tune the delivery for future presentations.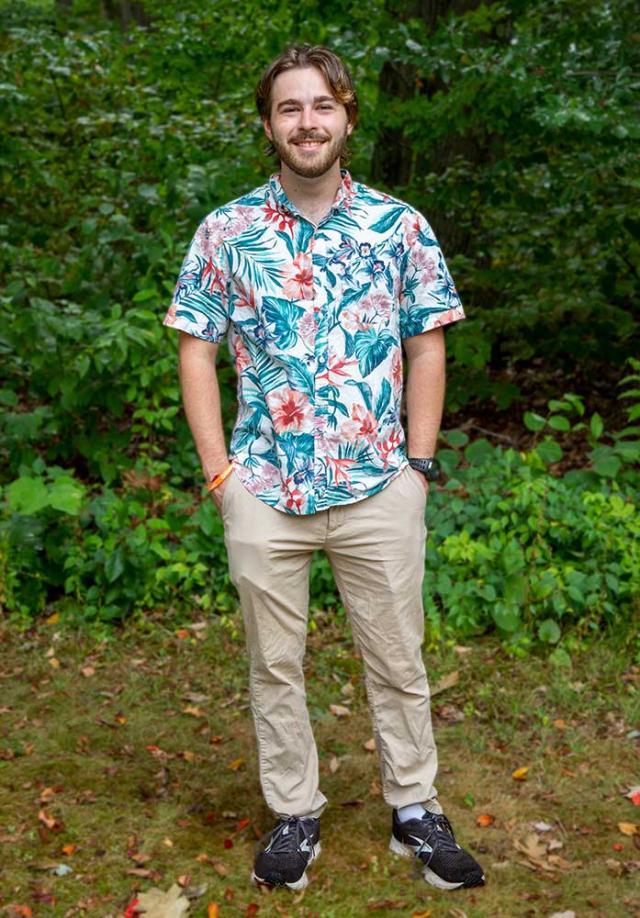 "It was exciting to see his vision for the training modules come together in a way that integrated his interdisciplinary coursework, practical experiences, and desire to support educators in providing rich experiences for youth to promote their learning and understanding of self and others," said Div III committee member Associate Professor of Cognitive Development Melissa Burch. "His modules provide a versatile foundation that can be tailored to the needs of many organizations in the future."
 
The philosophy behind Frye's work includes his recognition of children as full people rather than incomplete humans, innately valuable and worthy. "Instead of seeing problematic behavior as something to be punished, I understand it as a manifestation of needs not being met. My training embraces restorative practices to find the balance between maintaining a safe nurturing environment and navigating tricky behaviors stemming from big feelings and unmet needs." It involves social and emotional learning as well as moral development.
 
Frye also found the Five College Consortium particularly helpful while a student. "In my time at Hampshire, I was able to take classes at all five colleges!" he says. "Mount Holyoke's education advisor Sarah Frenette was very supportive and helped me find all the education classes I needed. I also worked closely with UMass Education Professor Darrell Earnest who helped me pursue an independent study on morale and the moral work of teaching."
 
During Frye's final Div III meeting with his committee, which also included Professor of Sociology Margaret Cerullo, Earnest spontaneously described Frye's work as "laying down a path where there was none."
Banner photo by Darrell Earnest