Off the Record With the Spaceman: When Bill Lee Pitched for Hampshire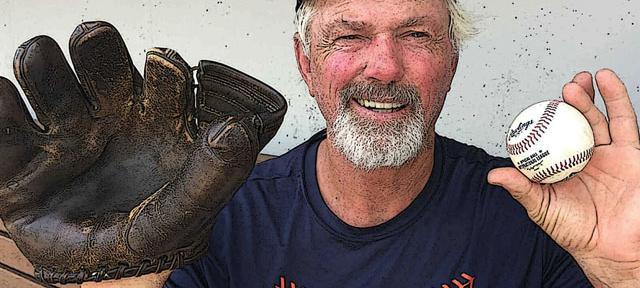 The game was back in the early '90s, just before Ken Burns came out with his Baseball documentary. All the players knew about Burns. You might think the players were Bad News Bears guys. Hampshire in those days was a pretty Bohemian culture, a lot of the guys were long-haired, they all dressed differently — they dressed kind of like Burns, come to think of it, though they were all bigger than him, he's a diminutive guy, maybe he could have played second base on that team, though I don't know. He's left-handed like me.
But no, those guys could play. I was very impressed. They reminded me of the semipro team I played with in Longueuil, Quebec, after I left the Expos. They were real athletes, just like on a club team at any university — people who had played before, who had played high school ball. They weren't like soccer players. Soccer players can't play baseball at all. They called themselves Division IV National Champs. There is no Division IV. 
The game was dead serious. I had a good curve ball that day, had a good changeup. And I was throwing in the 80s back then, so I was still pretty healthy. One thing I remember was that the Hampshire catcher was very good. He had long hair, and I was worried about him at the plate because his hair was so long, and the wind was blowing it up around his helmet. I thought that strands of it would wrap around the bat and he'd end up breaking his own neck.
I had a great game that day, and we beat them. Afterward we went out for barbecue and beers, and found a nice little joint, heading back toward the Connecticut River. I can still picture it there, on the righthand side of the road.
I played my college ball at USC, Southern California. If you ever get out there, go to a ballgame over at Dedeaux Field, walk around, and you'll see all the pennants we won. I had to be on my toes on that campus, though. It's really a right-wing university, at least it was in those days. It was one of the yuppiest places on earth. If I hadn't gone there, I wouldn't have gone to Hampshire, though I might have liked to. I finished at USC two years before Hampshire was founded. I would have gone to Humboldt State, up near the Shasta-Trinity National Forest, and majored in forestry. I would have been a forest ranger in the Pacific Northwest, and I probably would have gone to Alaska and built a cabin on Twin Lakes like Dick Proenneke did, you know, the self-taught naturalist who  lived by himself in the wilderness for thirty years. I have this strange desire to run away right now even as I speak.
The thing about Hampshire is — it's not a place, it's an idea.
It's like, in your memory, the space between the neurons. It's quantum, it's the quantum mechanics between the reality. That's how I think of it. I visualize that place as really smart people who don't fit inside convention — they live outside of the box. And I think that makes all the difference. As Robert Frost and Yogi Berra said when they got together, they came to the fork in the road and took the road less traveled by. That's Hampshire College. I was thrilled to play there.
Jim Collins is a magazine editor and writer and the author of The Last Best League (Da Capo Press, 2004).
Reprinted from the Summer 2016 issue of Hampshire's Non Satis Scire magazine.
1