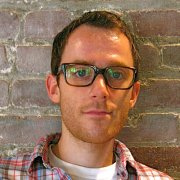 For his Div III, Will Reiser 99S created a sitcom called Arcadia. Upon graduating Hampshire in 2003, he moved to LA where he immediately found work in Television; writing and producing for various comedy shows such as HBO's Da Ali G Show and Vh1's Best Week Ever.
He later ran Ben Karlin's production company, Superego Industries, where Reiser wrote, produced, and developed film, television, and online projects for HBO.
Reiser is writer and executive producer of the film 50/50, which stars Seth Rogen, Joseph Gordon-Levitt, Anna Kendrick, and Anjelica Huston, and will be released to the public on September 30.
Will Reiser 99S on NPR to Discuss His New Film '50/50'
The film is the story of a 27-year-old man, in otherwise excellent health, who is diagnosed with cancer. It is loosely based on Reiser's life.
Reiser returns to the valley on Thursday, September 8, and will be present for a special advance screening of
50/50
at Amherst Cinema at 7:30 p.m.
Will currently lives in Brooklyn with his dog.