Researching Better Ways to Teach 21st Century Science
Prof. Tim Zimmerman is using a $409,000 National Science Foundation grant to research ways to better teach 21st century scientific practices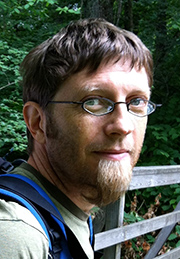 Visiting Assistant Professor of Cognition and Education Tim Zimmerman is using a $409,000 National Science Foundation grant to research ways to better teach 21st century scientific practices. The grant is funded through the NSF Innovative Technology Experiences for Students and Teachers (ITEST) program.

"This project is really about helping people understand how science works in the twenty-first century," said Zimmerman, who noted that "Science 2.0" is driven by collaborative research and tools, multi-user databases ("Big Data"), open source and open access publication, remote sensing, and real-time data.

"Often times, especially in the K-12 setting, students are taught nineteenth, and even eighteenth, century approaches to science. Many scholars agree, science has changed. Today scientists are able to use technology tools to collaborate in ways we've ever seen before," he said.

Zimmerman's work is also collaborative. To explore the degree to which Science 2.0 can be taught, he is partnering with local schools and organizations, including the Hitchcock Center for the Environment. Together, they will engage "citizen scientists" in environmentally-focused Science 2.0 projects. Additionally, educational technology researchers from the University of Toronto will create data collection tools for tablets that will be used by the citizen scientists. Computer science professor Tam Vu at the University of Colorado will create the program's web portal and standalone social networking site, where citizen scientists can talk about their data and research.

"We want these citizen scientists to emerge from the program understanding how science works in the 21st century," said Zimmerman. "If we want the public to understand science, and students to be prepared for future careers in science, we need to teach Science 2.0 ideas."

The project ties in with Zimmerman's course Educational Research in Theory and Practice. Students in the class are taking on the role of research assistants, helping to analyze data, develop research and learning tools, and collect data during the research implementation phase. This summer, the grant will also fund up to four student internships.

"It's such an amazingly rich project," said Garrett van Horne 12F, who is finishing up a Division II project focused on the history and practice of how people learn and teach. "I'm very interested in educational theory, so working with Tim on this project is literally a dream come true. I couldn't have asked for anything better. There is so much potential for continuing the research and branching off."

That sort of thinking is exactly what Zimmerman hopes to foster among his students and among the citizen scientists with whom his research will soon engage.

"Hampshire is the perfect location for this work," he said. "There's an interest here in having students engaged in real-world projects, not just in the classroom, and that's exciting."
1