Revitalized Holyoke Textile Mill to Host Premiere Exhibition by Hampshire Students and Professor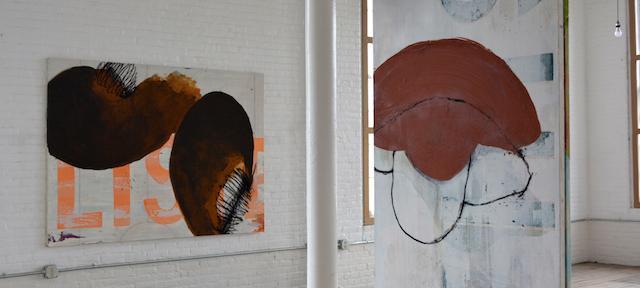 A revitalized 19th-century textile mill in Holyoke will host an exhibition of the work of five artists — a Hampshire College professor of art and four graduating students presenting their Division III thesis shows — curated by a UMass graduate art student.
The exhibition, titled re-mappings, will take place in the Baustein Building, which is at 532 Main Street, in three rooms with a total of more than 3,000 square feet of space and 15-foot ceilings.
Hampshire Professor of Art Daniel Kojo Schrade, who rents a studio in the building, got permission to use the space from its owners, Dirk and Susannah Auferoth.
The show opens with a public reception on Thursday, April 26, 6–9 p.m., and runs for seven afternoons, April 26–May 3, hours 2-5 p.m.
The student artists — Onea Engel-Bradley, Kjell Hemstead, Noah Greene-Lowe, and Boaz Steed— are exhibiting with Professor Schrade; the show is curated by Celia Rodríguez-Tejuca, a UMass graduate student in history of art and architecture.
The Auferoths invited the Hampshire student artists to exhibit there at no cost, and gave them access to the building to install the exhibit in the month leading up to the show.  Schrade said the Auferoths were very open to the idea of the show. The beautiful brick mill building has large windows and plenty of light, and is within walking distance of all of Holyoke's Innovation District spaces, such as the Massachusetts Green High Performance Computing Center, the Race Street Gallery, and city canals.
All Hampshire students in their fourth year complete a Division III, a yearlong, independent, advanced-study project that typically incorporates a thesis or capstone project. Div III students demonstrate their ability to handle complex concepts and skills and defend their work to their faculty committee. Student artists also exhibit their works in solo and group shows, and this year, more than 50 students are presenting their final art theses, nearly all of them on campus in the Hampshire College Art Gallery (exhibit schedule at https://sites.hampshire.edu/gallery/div-iii-spring-2018/).
ABOUT RE-MAPPINGS
Professor of Art Schrade and curator Tejuca invited Hampshire Division III students to apply for inclusion in the exhibit. They chose four students largely by who could best take advantage of the extensive floor space and ceiling height, as well as the month of set-up time.
According to the exhibit text written by Tejuca, re-mappings spans painting, photography, and installation, and explores the reconstruction of silenced and displaced narratives as a central concern in the process of identity making.
Onea Clare Engel-Bradley's Every Piece A-Part welcomes viewers to travel in time and space through objects that evoke her family's background as textile manufacturers, drawing a connection between Lodz, Poland, and Paterson, New Jersey.
Noah Greene-Lowe's untitled series brings the discussion of the gentrification of his hometown, Atlanta, to the context of Holyoke.
Boaz Steed's photographic installation, Always Something Special, is the result of his exploration of the history of the Sarotti chocolate factory, an industrial site in Berlin that, like the Baustein Building, has been a witness to and victim of significant historical events. The exploration of the factory extends beyond its architecture to reflection on the city of Berlin and, more broadly, the German nation.
In an untitled series, Kjell Hemstead's abstract constructivist compositions and installations recombine natural and human-modified wood and found materials to configure a new essence of materiality and textures.
Daniel Kojo Shrade's works investigate the entangled histories of Africa and Europe through the poem Parzival and its enigmatic bard Kyot, the oral source for Wolfram von Eschenbach's 25,000-verse epic poem, written in the 13th century. Schrade's series of paintings, titled :listenings, is dedicated to this bard.
Schrade's work is represented in various permanent collections such as those of the Museo de Cuenca/Spain; MACO/Mexico; the Bayerische Staatsgemaeldesammlung/Munich; Collection Diehl/Silvaplana-Swiss; and Collection Morat/Freiburg-Germany. He was a Copeland Fellow at Amherst College, and received an M.F.A. from the Academy of Fine Arts Munich, Germany, having also studied in Spain. His paintings and installations have been presented internationally, including at the Museo de Arte Contemporaneo/Oaxaca-Mexico; Alliance Francais/Kumasi-Ghana; Haus der Kunst/Munchen-Germany; Muzej Grada/Rijeka-Croatia; and the Mead Art Museum at Amherst College.
EXHIBITION OVERVIEW
re-mappings
April 26–May 3
Reception: April 26, 6–9 p.m.
Baustein Building, 532 Main Street, Holyoke
Curated by Celia Rodríguez Tejuca
Artists
Onea Engel-Bradley
Kjell Hemstead
Noah Greene-Lowe
Boaz Steed
Daniel Kojo Schrade www.danielkojoschrade.com
ABOUT THE BAUSTEIN BUILDING http://www.bausteinbuilding.com/
The Baustein Building is owner occupied. The owners see 532 Main Street as part of the framework of Holyoke's renaissance. Their goal is for the building, constructed in 1898 as a textile factory, to be "a place where all kinds of people create all kinds of things." Dirk Auferoth has an architectural interior woodwork, cabinetry, and furniture studio, which he moved to Holyoke from New York City: www.dirkauferoth.com. Susannah Auferoth is a painter, graphic designer, and the proprietor of Ready Set Go Town®, a toy and mobile app start-up: www.readysetgotown.com.
1