Roddenberry Foundation Funds Sustainability Solve-A-Thon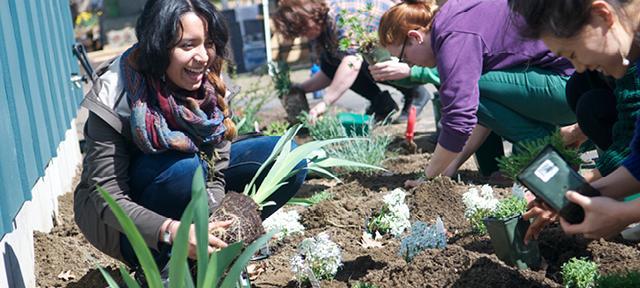 A $200,000 grant from the Roddenberry Foundation will challenge Hampshire faculty and students to find interdisciplinary solutions to climate change, sustainability, and social justice through new courses, project grants, events, and even a Solve-a-Thon team contest across all five schools of the college.
Tim Zimmerman, visiting assistant professor of cognition and education, who cowrote the grant proposal with Sustainability Initiative Director Beth Hooker, says it ties in well with Hampshire's pedagogical model. "It's about getting out and doing things rather than solely sitting in a classroom talking theory," he says. "We're going to use education as a tool to think and act innovatively about climate change and sustainability."
The two-year grant will fund two new team-taught interdisciplinary courses, ten travel grants for students engaged in project-related activities, symposia and visiting speakers, and the Roddenberry Solve-a-Thon, which aims to bring together the Hampshire community to solve a real-world problem.
The mission of the Roddenberry Foundation, chaired by alum Eugene "Rod" Roddenberry 92F, is to support innovative solutions to critical global issues in the areas of science and technology, the environment, education, and humanitarian advances.
Hampshire is a signatory to the American College and University Presidents Climate Commitment, which integrates a goal of reducing greenhouse gas emissions, achieving carbon neutrality, and increasing our ability to be resilient in our campus response to climate challenges, says Hooker. Under the commitment, colleges utilize a systems approach to mitigate and adapt to a changing climate through a variety of avenues. Among Hampshire's initiatives are building the R.W. Kern Center, which adheres to the stringent green-building standards of the Living Building Challenge, and the construction of a 20-acre solar array with the goal of generating 100 percent of the college's own electricity.
"Our faculty and students are engaged in these projects through courses, Divisional studies, and research," says Hooker. "This grant provides us with a way to provide more opportunities for our community to engage with the questions related to our goals, and to explore what this involvement means for Hampshire and the world. The work starts here, but we hope it will radiate out and eventually have global impact."
The Roddenberry Solve-a-Thon will be the culmination of the program. Although similar to hackathons, which bring together students to develop new technology and collaboratively address problems, the goal of the Solve-a-Thon, Hooker says, is to choose a specific problem and "not just chop away at it, but actually solve it together."
"We look forward to seeing the results of a collaborative, real-world effort in addressing these major global issues," says Roddenberry Foundation CEO Lior Ipp and to "further refine a model that encourages students and faculty to lead social change on their campuses and beyond."
The grant is also intended to align with existing Hampshire initiatives, such as the Ethics and the Common Good Program, and Design and Innovation for Social Change, which focus on issues of ethical engagement and leadership, for example, and the use of technology and social entrepreneurship to make a positive difference worldwide. With the grant, says Zimmerman, Hampshire can delve even more deeply into those topics.
"It's important that this is a two-year commitment," says Zimmerman. "It gives us time to address some of these issues very carefully, and to bring in top people in the field to engage the Hampshire community in thinking about these ideas."
1